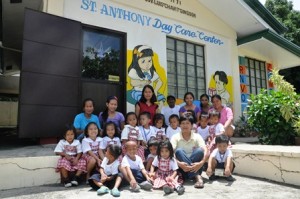 "We started the hard way, but we are implementing the program the best way we can."
These are the words emphasized by Ms. Genevieve B. Oriente, Municipal Social Welfare and Development Officer (MSWDO) of Santa, Ilocos Sur.
According to Ms. Oriente, with the full support of all stakeholders and parents, the implementation of the Supplementary Feeding Program (SFP) of the Department of Social Welfare and Development Field Office 1 (DSWD FO1) in the said municipality is successful.
Cooperative partners and empowered parents, all in one
MSWDO Oriente is grateful for the consideration being showed by their assigned auditor, Clemente Agimbre. The latter allows the feeding activities to be conducted in all Day Care Centers (DCCs) in the right time and not to be delayed due to long procurement process.
"It is now my obligation to be part of the SFP especially that this is for the benefit of the children," said Ritchell Pagad, DC Parent who accompanies her four-year-old daughter, Erich, to St. Anthony DCC in Barangay Mabilbila Norte.
Gladiz Caabay, also a DC Parent, narrated that going to the Center to prepare nutritious food for the Day Care children is now part of her daily household chores. She added that in doing this, she can personally attend to her three-year-old son, Edgar Ace Hansi, while at the DCC.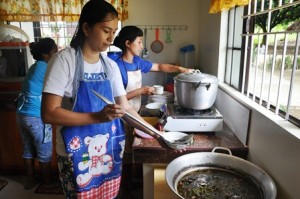 Parents prepare and cook the hot meals of the children in groups every day. Every cooking session serves as a time for them to bond and make friends with each other. It is also an opportunity to share their own cooking techniques that they can also do at home.
Parents and barangay officials provide meal ingredients and add-ons harvested from their vegetable garden situated at the back of the Center. All barangay officials were also directed with the provision of a resolution from the Sangguniang Bayan to plant malunggay last July 2014 during the Nutrition Month celebration in support to the SFP.
Edgar Ace and Erich are now healthier, more active, and have an increased weight.
PES, parents for the best
 Raising a child is not an easy task, but with the Parents Effectiveness Sessions (PES), Gladiz and Ritchell always keep in their minds that children should be nurtured with love and proper care. Lessons learned in the PES serve as their guiding light to direct their children's path in becoming role models in the near future (by: Jaesem Ryan A. Gaces, Administrative Assistant III, Listahanan/NHTS-PR).