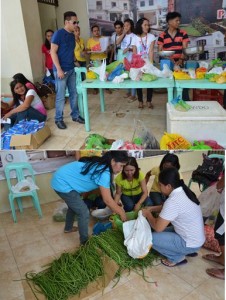 Convergence, that is.
All stakeholders and partners take direct involvement for the successful implementation of the Supplementary Feeding Program (SFP) of the Department of Social Welfare and Development Field Office 1 (DSWD FO1) in Bantay, Ilocos Sur. The program just started last July 21, 2014.
Ms. Constancia O. Pilarca, Municipal Social Welfare and Development Officer (MSWDO), claimed that not only DSWD staff but also some municipal employees participate in feeding activities to all Day Care Centers (DCCs).
According to Ms. Pilarca, the OIC Treasurer Mr. Hubert Ambrocio, together with his staff, takes charge in procuring all food stuff to be distributed to all DCCs in the municipality thru DC workers and parents.
Everyone shares
MSWDO provides Mr. Ambrocio the list of items to be bought from the market, which he liquidates for the counterchecking and approval of the MSWDO.
"My love for children drives me to be part of SFP," Mr. Ambrocio narrated.
He added that he also prepares the list of menu duly approved by the Municipal Nutrition Officer (MNAO) and is included in the cycle menu of the centers.
The resident auditor immediately checks the items bought by Mr. Ambrocio for auditing and transparency purposes and also witnesses the food stuff distribution.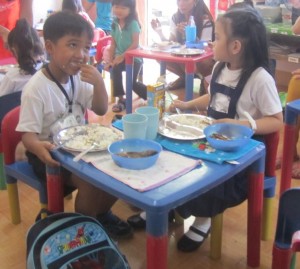 Distribution of food stuff good for one week happens every Friday of the week with the regular presence and assistance of Mayor Samuel G.F. Parilla.
Parents augment
Farida Sagalto, Brgy 1 Day Care Parent Group (DCPG) President, said that if what is given to them is not enough, her fellow parents contribute any amount to supplement the food stuff. They also harvest some vegetables in a garden situated at the back of the DCC.
All the parents like Farida really appreciate SFP because their children are now getting healthier and more physically and mentally active in school. They also help the Day Care Worker Ms. Evangeline Baay in monitoring the weight of the pupils (8 boys and 8 girls).
Children's delight
 Farida also added that their children's favorite is now vegetables resulting to them having sound minds and bodies. When they see their children playing, laughing, smiling, they say that it is because of proper care and the assistance provided by the SFP (by: Jaesem Ryan A. Gaces, Administrative Assistant III, Listahanan/NHTS-PR).