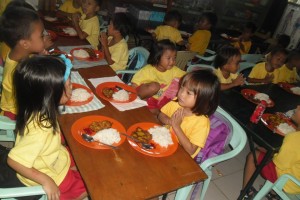 In Agoo, La Union, day care children are taught to consume more vegetable viands; children are assured of something nutritious to eat while in school; and parenting capabilities are enhanced through Parents Effectiveness Service (PES) sessions that complement the Supplementary Feeding Program (SFP) of the Department of Social Welfare and Development (DSWD).
These are mentioned results of feeding according to the Municipal Social Welfare and Development Officer (MSWDO) Rhoda Panes.
Ms. Panes confirmed that the well-documented conduct of PES in Santa Fe Day Care Center is among its good practices which led to its accreditation recently.
The regular conduct of PES is seen as an added-value in the SFP, especially among the younger generation of parents and even among solo parents.
On the regular PES sessions, highlights of each topic discussed and agreements reached between parents as to the lessons learned are properly documented by the Day Care Worker Vivian Lachica.
For the PES not to be interrupted, some barangay officials help in the preparation of food while other parents, in turn, wash dishes and clean the kitchen after feeding.
Batang Riles Assured with Hot Meal everyday
According to Ms. Panes, day care children living along the defunct PNR track no longer attend classes without having breakfast. They go to school without a penny to buy food. With the SFP, they are assured of 'hot meal' every day. They are even more motivated to go to the day care center because of the feeding.
Strategized Feeding Visits and Centralized Marketing
With Ms. Panes conducting regular unannounced monitoring visits, day care workers are diligently implementing the feeding activities in 52 day care centers in Agoo, La Union.
This strategy also encouraged more support from the barangay officials and the local officials who also observed the good results of the SFP among parents and children.
Also, the weekly centralized purchase of food stuff and liquidation of cash advances facilitate convenience and diligence among the day care workers and MSWDO staff who work for the program. Every Sunday, perishable goods such as meat and vegetables are claimed at designated suppliers while liquidations are accomplished by Ms. Panes prior to new cash advances.
A reward system is also being incorporated by Ms. Panes to motivate day care workers' early and complete submission of documents supporting the conduct of feeding. (by: Iryn D. Cubangbang, Information Officer II)