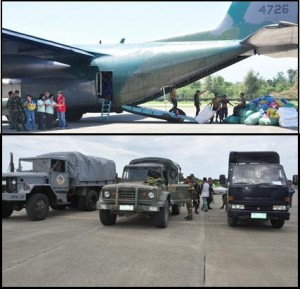 Since the onslaught of Typhoon Mario, the Department of Social Welfare and Development in coordination with the local government units (LGUs) did not stop assisting the victims through family food packs and other non-food items. As of September 24, 2014, at least Php 7.79 million worth of assistance or 27,130 family food packs were given to the victims through LGU requests.
The Disaster Risk Reduction and Response Office (DRRRO) and Planning Unit continuously receive and consolidate disaster reports from the LGUs as bases in assessing the need and in providing the relief augmentation.
Of the Php 7.79 million worth of assistance, some Php 6.9 million came from the Department of Social Welfare and Development. The rest was provided by LGUs.
As monitored in the disaster reports, there are 108,501 families or 482,517 persons affected in Region 1. Of which, 8,611 families or 38,394 persons are from Ilocos Norte; 33,946 families or 172,466 persons from Ilocos Sur; 11,910 families or 48,577 persons from La Union; and 54,034 families or 223,080 persons from Pangasinan.
A total of 5,477 damaged houses (3,678 partially damaged; 1,799 totally damaged) and 10 casualties were reported. The Field Office 1 together with community volunteers is continuously repacking relief goods to be provided as relief augmentation to affected families by Tropical Storm Mario.
As of today, delivery of goods by members of the Philippine Navy, Philippine National Police, and Philippine Army is continuously done in the provinces of Ilocos Norte and Ilocos Sur.
The Social Welfare and Development Action Teams in the provinces are still on duty 24/7 together with the Quick Action Response Team to continuously assist requesting LGUs. (by: Iryn D. Cubangbang, Information Officer II)