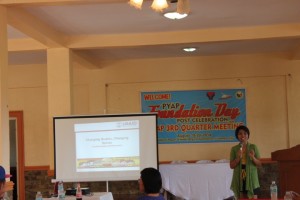 The role of out-of-school youth (OSY) leaders in minimizing, if not eradicating, teenage pregnancy was emphasized during the Pag-asa Youth Association of the Philippines (PYAP) Foundation Day cum Quarterly Meeting on August 19-20, 2014 at Goldland Resort and Hotel, Urdaneta City.
To achieve such goal, conducting more community activities supportive of Local Social Welfare and Development Offices (LSWDOs) is one of the agreements among the leaders of PYAP.
The speaker from United States Agency for International Development (USAID), Ms. Loida Almendares, Capacity Building and Program Management Consultant, discussed Adolescent Sexual Reproductive Health (ASRH).
Along with the rights to access informationon sexuality and other reproductive health matters, OSYs were reminded to develop a positive body image as it affects one's self-esteem, to avoid activities that can threaten health, and to choose activities that promote self- respect.
As a friendly reminder, Ms. Almendares gave emphasis on the following messages for the youth:   learn to say NO; know one's limits; the only 100% sure way of not getting pregnant or acquiring Sexually Transmitted Diseases (STD) is to not have sex; and seek help from a health worker.
The first day session ended with the fat-burning Zumba session led by Mr. Julius A. Nastor, a dance instructor and a former PYAP President. (by: Iryn D. Cubangbang, Information Officer II)