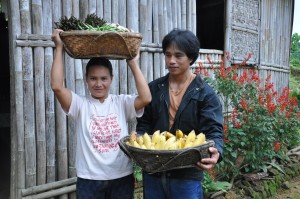 In Suyo, Ilocos Sur, the Long-es family lives in a 'bahay-kubo' adorned with flowering plants, vegetables and fruit-bearing trees. Despite simple living, they are earning and saving money for the education of their children.
The Long-es Family is the pride of the Province of Ilocos Sur as official entry in the Regional Search for Huwarang Pantawid Pamilya 2014.
Couple Arnold and Josie maximize their time in taking care of these gardens which are the sources of their income. The agricultural products such as banana, pechay, string beans, eggplant, 'sayote,' sweet potato, Baguio beans among others are sold to their neighbours for at least three (3) times a week during peak season. The ornamental and flowering plants such as Anthurium and Crysanthemum are also being sold in the public market during 'market days.'
Since the family is vegetarian, most of the foods consumed are products from the garden and their backyard with domestic animals such as chickens and native pigs.
Saves for Education
Since the couple were not able to finish even their secondary education, they are trying very hard to send their children to school. Because of their high regards to education, each of them has bank savings of at least Php 2,000.00 or at least Php 10,000.00 for the whole family.
In Suyo, Ilocos Sur children are encouraged to save through the 'Youth Tipid Movement.' Truly, education is an investment with their early preparation for the tertiary education of their children.
Pantawid Empowers the Lowly
'Dati kasla kami adda idiay kababaan la unay' (Before the Program came, we felt belonging in the lowest level in the society, Josie narrated. The Family Development Sessions were seen as channels of information which propelled them to enhance practices on hygiene and cleanliness, and in nurturing a happy and peaceful family.
Belonging to the ordinary families was seen as a challenge and stepping stone to improve their lives for their 2 children. Accordingly, the Pantawid Pamilya has equipped them with strength to cope with the difficulties in life, thus, inspiring them to move forward with their capabilities. by: Iryn D. Cubangbang, Information Officer II)