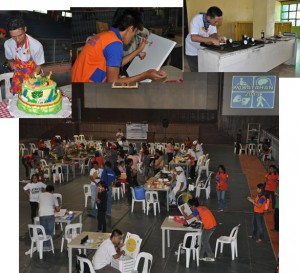 Persons with Disability (PWDs) prove that they have the potential to become part of the country's productive work force through their work and excellence showcased during the National Disability Prevention and Rehabilitation Week celebration.
With the theme "Talino at Paninindigan ng Taong may Kapansanan, Pasaporte sa Kaunlaran" the Department of Social Welfare and Development Field Office 1 (DSWD FO1) convened at least 100 skilled PWDs from the Line Agencies, Association of PWDs and DSWD staff at the People's Astrodome in Dagupan City, Pangasinan, recently.
Various contenders from the four provinces of the region competed in the Kakayahan 2014 with the following events: Cluster A – Painting; Photography; Floral Arrangement; Cake Decoration; Waste Reuse; Cooking; Cluster B – Creating Web Page; Desktop Publishing; and English Text Processing.
This is a regional selection for the national level to be held in Manila in December. The national champions will represent the country to the 2015 International Abilympics (Olympics of Abilities for PWDs).
The regional champions under Cluster A are as follows: Painting-Ryan Oliver Asio, 21, Candon City, IS, Speech Impaired; Photography-Preciosa Paz Quinio, 28, Dagupan City, Pangasinan, Hearing Impaired; Floral Arrangement-Froilan Tica, 29, Sto. Domingo, IS, Deaf; Cake Decoration-Norman Pastor, 33, Cabugao, IS, Orthopedically Impaired; Waste Reuse-Frederick Aguilar, 27, Dagupan City, Pangasinan, Hearing Impaired; and Cooking-Annie Rose Rumbaua, 20, Bambang, Nueva Viscaya, Orthopedically Impaired.
Meanwhile, the Cluster B regional champions are the following: Creating Web Page-Jerome Marzan, 26, Bauang, LU, Deaf; Desktop Publishing-Rhoda Olermo, 25, Anda, Pangasinan, Orthopedically Impaired; English Text Processing-Jennifer Garcia, 36, Malasiqui, Pangasinan, Orthopedically Impaired.
Judges were from different partner agencies, private institutions, and academe like Technical Education Skills Development Authority (TESDA), Department of Science and Technology (DOST), Department of Education (DepEd), Commission on Higher Education (CHED), Department of Trade and Industry (DTI), Department of Labor and Employment (DOLE), Philippine Information Agency (PIA), Department of Agriculture (DA), National Council on Disability Affairs (NCDA), Colegio de Dagupan, Polytechnic College of La Union, and the City Government of Dagupan.
Each champion received a certificate, plaque and P1,900.00. Non winners also received consolation prizes worth P500.00. Judges were also awarded with certificates and tokens.
According to Ms. Nora D. Dela Paz, OIC Asst. Regional Director for Administration, the only disability in life is bad attitude. Change within one's self is possible with the help of the government, private sector, and family    (by: Jaesem Ryan A. Gaces, Administrative Assistant III, Listahanan/NHTS-PR).