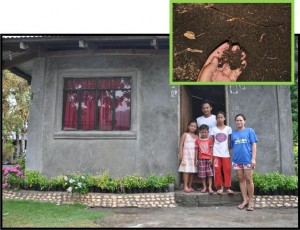 A dream came true with vermiculture. A practical and environment-friendly, earning enterprise has reached 299 Pantawid Pamilya beneficiaries in Solsona, Ilocos Norte, who are now maintaining 716 beds/units of vermi worms.
It can be recalled that in 2011, DSWD's Cash for Work Program was tapped by the Local Government of Solsona for the restoration of facilities damaged by typhoon. After a 10-day work, each beneficiary was given assistance amounting to Php 3,080.00, which was later on used to buy vermi worms called ' African Night Crawler' and other materials needed in the construction of vermi beds.
Accordingly, an average vermi compost producer harvests at least 1100 kilos of vermi cast every 35 days sold at Php 4.00 per kilo. Among the market outlets are the Provincial Gov't of Ilocos Norte (PGIN), Office of the Provincial Agriculture (OPAG), other city/municipalities (such as Batac City, Marcos, Pinili), Mariano Marcos State University (MMSU), Department of Social Welfare and Development of Enviroment and Natural Resources (DENR) and even private individuals.
Mayor Jonathan de Lara and former Mayor Joseph de Lara, with the help of the Municipal Agriculture Office are now pursuing the expansion of vermi propagation with its increasing demand.
Hilario Family on 'Vermiculture'
Remigio Hilario, 37, from Maanteng, Solsona is among those earning from vermi compost.
At present, Remigio takes pride of his 30 kilos vermi worms which started only with a kilo, way back two years ago. Aside from the organic fertilizer produced, the vermi cast is also used in producing organic fattening hogs and vibrant ornamental plants. He has 4 fattening hogs which also eat some vermi cast. His wife Daylin also earns at least Php 1,000.00 a month from her ornamental plants.
From vermi culture income, Remigio rebuild their house from typical 'bahay kubo' to a semi-furnished 2-room bungalow house.
With his wife Daylin, Remigio's children are well-nourished and well-attended to, thus contributing to a good school performance.
Despite the improved economic condition, the family's simple living and strong faith in God is observed. Love, respect and understanding bind the Hilario family who is able to withstand the tests of poverty and low opportunities.
In an interview, Remigio's happy family thanked the concerted efforts of DSWD and the Local Government Unit of Solsona in providing the capital assistance and in helping them gain from the vermiculture. (by: Iryn D. Cubangbang, Regional Information Officer)