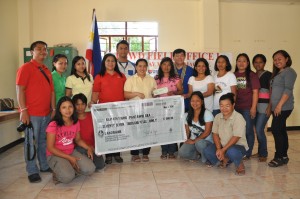 On May 1, 2014, Labor Day,  DSWD released Php 77,000.00 capital assistance to 10 Pantawid beneficiaries for their soft broom and wine making projects which are among the viable projects in Adams, Ilocos Norte.
This assistance was made possible in coordination with the District Office of Congressman Rodolfo Fariñas to support the income generating activities of poor families in Ilocos Norte.
Likewise, the following towns also received capital assistance during the series of check awarding activity: Laoag City, Php 669,000.00 (75 beneficiaries); Vintar, Php 182,000.00 (20 beneficiaries); and Bangui, Php 186,000.00 (20 beneficiaries).
As mentioned by Project Develoment Officer III Agnes Tambalo, this assistance will help boost the identified projects of the Pantawid beneficiaries such as sari-sari store, vegetable vending, peanut butter production, and souvenir making, among others.
To reiterate the rollback scheme of DSWD, Director Castillo advised the beneficiaries to be good stewards of the government's assistance. Likewise, DSWD will continue to monitor repayment and project status to ensure good implementation and savings mobilization.
To note, DSWD's Project Development Officer under the Sustainable Livelihood Program conducted series of mandatory trainings on project identification, project proposal preparation, book keeping and values reorientation that capacitated the beneficiaries for the micro enterprise prior to the release of check.   (by: Iryn D. Cubangbang, DSWD-Information Officer II)