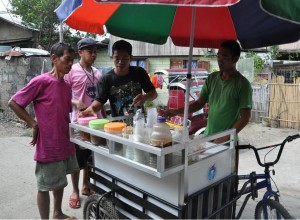 Dreaming is free but it should be worked out. This is the guiding life principle of 20 year-old Loudemer C. Dolorso from Brgy. San Benito Sur, Aringay, La Union, an Out of School Youth (OSY) and a beneficiary of Sustainable Livelihood Program-Bottom Up Budgeting (SLP-BUB) of the Department of Social Welfare and Development Field Office 1 (DSWD FO1).
Loudemer stopped schooling since his fifth grade but not stopped striving to make his dreams come true.
He said, "I do not plan to continue my studies anymore, what is important to me is my younger brothers' education, one will be in first year college and another in Grade 8."
He further added that he took the responsibility of raising his three nieces ages 7, 3, and 2 since they were left by their mother and father after a dispute.
The wheel of change spins
Coupled with his young age are great challenges to face and responsibilities to perform, setting aside the pain he is suffering from hernia. He became more courageous when DSWD and LGU-Aringay chose him as one of the 10 OSYs who were awarded with Food Cart for vending various products through the SLP-BUB.
Earning at least P150.00 to P200.00 a day from selling fish balls, kikiam, chicken balls, squid balls, and other street food every night, he seems to win a jackpot prize when he goes back home. During the day, especially market days (Wednesdays and Sundays), he serves as a slaughter and receives P100.00 a day.
According to him, "It is better to work than to stay home doing nothing. Though I do not have a stable job, I know I can earn and help my family."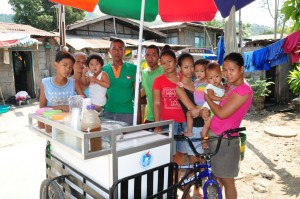 This small amount he earns, means a lot to him because they are able to buy daily needs like rice and groceries and pay electric and water bills.
'Out' in school, 'In' into leadership
To his fellow OSY Food Cart Vendors, he is a role model. That is why he is the President of the Aringay OSY Sustainable Employment Assistance-Kaunlaran (SEA-K).
They all decided to open a bank account through the assistance of Project Development Officer Antonio Navarro.
Since last month, they have an account balance of around P5,200.00
According to Loudemer, the group is planning to use their savings in buying additional food carts for other OSYs in their barangay and even for the members who plan to continue their education. (by: Jaesem Ryan A. Gaces, Administrative Assistant III, Listahanan/NHTS-PR).