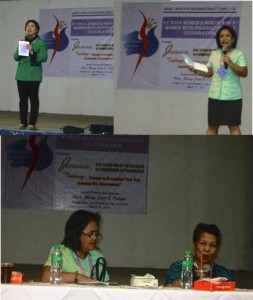 "Stand out for your rights. Be 'Juana' for a change!"
Thus emphasized by the Vice President of the Global Executive Committee International Council for Local Environmental Initiatives, Hon. Mary Jane C. Ortega.
This event marks the celebration of the 2014 Women's Month and 9th Women with Disabilities Day at the Ortega Gym, San Fernando City, La Union.
The Region 1 Advocates for Gender Equality (RAGE-1) together with the Department of Social Welfare and Development Field Office 1 spearheaded the event through a Walk for Gender and Development (GAD) around the city going to the venue participated by the different Regional Line Agencies (RLAs), Government Owned and Controlled Corporations (GOCCs), and Provincial Local Government Units (PLGUs) of La Union.
The walk aimed to inform the public on the exercise of women's rights and their vital role for and in development.
According to the DSWD FO1 OIC Assistant Regional Director for Administration, Ms. Nora D. De la Paz, there is no such thing as disability other than bad attitude while discussing Magna Carta for Women.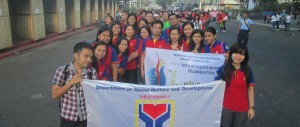 She said that there should also be a partnership between every men and women as the principle of GAD suggests.
Furthermore, the retired Manpower Development Officer of the DSWD's Area 1 Vocational Rehabilitation Center (AVRC 1), Ms. Dominga M. Quejado, a polio victim, explained the rights of all women with disabilities to include access to basic social services, rehabilitation, education, political and public life, work and employment, participation in cultural life, recreation, leisure, and sports.
She added that she was one of those who fought for the approval of the Magna Carta for Persons with Disabilities (PWDs).
Because of this, she encouraged her fellow women with disabilities to bravely exercise their rights (By Jaesem Ryan A. Gaces, Administrative Assistant III, Listahanan/NHTS-PR).