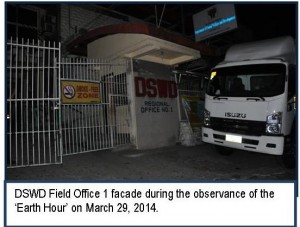 Joining the whole nation and entire world to help 'Mother Earth' restore its natural healing as it combats effect of man-made environmental degradation, DSWD Field Office 1 also shut off its light on March 29, 2014 from 8:30- 9:30 PM.
Believing on the good results of the Earth Hour, Dir. Marcelo Nicomedes J. Castillo and the management adhered to this 'call.'
In addition, as an initiative to protect Mother Earth, Director Castillo has also initiated tree planting activities for all DSWD FO1 staff in areas specified by the DENR-1. This is being implemented in all provinces in Region 1 with the support of the provincial staff.
More importantly, the Field Office, Centers and Institutions are practicing 5S, waste segregation and Greening Program to promote not only cleanliness and orderliness in the environment but also wellness and increased productivity among staff. ### (by: Iryn D. Cubangbang, DSWD-Information Officer II)