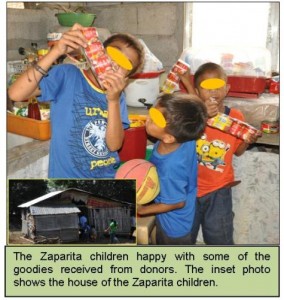 DSWD coordinated with the Municipal Social Welfare and Development Officer (MSWDO) of Bauang, La Union and the Barangay Council of Acao of said town for the provision of proper interventions to the televised 'Zaparita' children (GMA's Motorcycle Diaries).
The abandoned Zaparita children are also victims of abuse and neglect by their parents. This caused John Carlo, being the eldest to do odd jobs in the neighbourhood to support his two younger siblings since they were left to an old grandmother whose income comes only from charcoal making/vending, whom he also helps.
Their story of struggle and resilience was featured by Jay Taruc's Motorcycle Diaries which captured the sympathy of benevolent individuals from local and abroad, who are now giving donations and pledges.
DSWD Field Office 1 Regional Director, Marcelo Nicomedes J. Castilo fast tracked the issuance of foster parent license to Minerva Mayo, wife of the children's distant uncle and a Barangay Health Worker in Acao, to legally authorize her to take care of the children.
Mrs. Mayo was identified and recommended as the most appropriate foster parent for the children after careful assessment of her parenting capability by the MSWDO of Bauang, La Union and being preferred by the children.
Based on gathered information, Mrs. Mayo was already assisting the children on her own and by sourcing out cash or food stuff from the barangay officials and neighbours, even before the parents left the children, since most of the time they have nothing to eat.
Aside from pledges of scholarships, food and non-food stuff were handed to these children. More benevolent individuals are exploring ways to help these children. (by: Iryn D. Cubangbang, DSWD-Information Officer II)