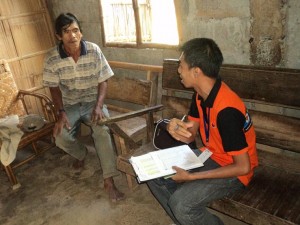 Six years of intensifying services by the Municipality of Cervantes, Ilocos Sur, poor families are assured of an improved quality of life.
Through the Poverty Alleviation and Development for Rural Economy (PADRE) Program, the potential of the poor towards progress has been harnessed.
The Local Government of Cervantes is among of the first to grab and utilize the database of poor households being maintained by the National Household Targeting System for Poverty Reduction (NHTS-PR) Project or Listahanan of the Department of Social Welfare and Development (DSWD).
More Focused, More to Help
Recognizing the importance of the NHTS-PR or Listahanan, Municipal Mayor Benjamin N. Maggay claimed that their targeting of Cervantes PADRE beneficiaries became more focused and efficient with the ready database.
"We are now more confident that all poor shall benefit our anti-poverty programs", Mayor Maggay added.
All the efforts of the municipality with regards to education, livelihood, employment, health, and other programs are all anchored to the NHTS-PR or Listahanan's database of poor households to ensure that they serve the right people with the right services.
There are more than 1,000 poor households in the 13 barangays of Cervantes who are continuously and unselfishly being served and benefit from the PADRE program.
To Mayor Maggay, it is a fulfillment of the Matuwid na Daan that the poor are properly identified through the NHTS-PR project or the Listahanan.
Working for the Poor
With the urge to prioritize the poor to be empowered in every aspect of their life, the Cervantes PADRE keeps on innovating new ways to respond to their needs.
Mayor Maggay strengthens the partnership and convergence to all Government Agencies and Non-Government Organizations. This is to look for other appropriate programs that would benefit the poor in the locality.
He believes that in working hand in hand with unified purpose, poverty will end. (By Jaesem Ryan A. Gaces, Administrative Assistant III, Listahanan/NHTS-PR).