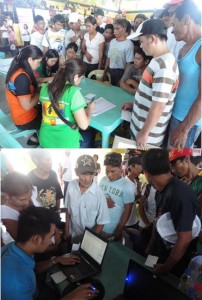 At least 3,900 indigent families identified by the (NHTS-PR) National Household Targeting System for Poverty Reduction Project or Listahanan were enrolled to PhilHealth during the simultaneous nationwide grand launching of the Alaga Ka (Alamin at Gawin) Para sa Maayos na Buhay Program at the Sports Center, recently.
According to Mayor Victor Marvin Marron, all poor families in the municipality are now assured to have an easy access to medical and health services and avail of the No Billing Balance (NBB) in accredited hospitals and clinics.
Mayor Marron also added that the NHTS-PR or Listahanan's database is credible being the prime source of accurate, complete, and true data in identifying the poor.
Moreover, Regional Director Myrna C. Cabotaje of the Department of Health (DOH) also explained that through the process of cross matching and verification of Household ID, this will certify that they are really included in the database of poor households thus, they are the priority for enrolment and renewal of membership.
In Region 1, Luna was selected as pilot area in introducing the Alaga Ka Para sa Maayos na Buhay Program of the DOH in tandem with Philhealth catering all indigent families not only the beneficiaries of Pantawid Pamilyang Pilipino Program.
Executive Order 867 series of 2010, provides the adoption of the NHTS-PR Project as the mechanism for identifying poor households who shall be recipients of social protection programs nationwide.