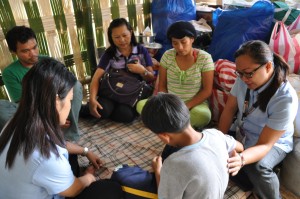 The 'Gacayan' family whose three (3) children died due to house fire in San Gabriel, La Union was immediately assisted by DSWD-Crisis Intervention Unit with food assistance and stress debriefing session.
The Gacayan's house made of light materials turned into ashes on the night of March 3, 2014 when the parents Mark and Almelita visited parents' in-law in the nearby sitio to get some planting materials and food stuff for their children.
Barely seven in the evening, when the couple arrived, their house was already in huge fire. The eldest child Jan-Jan who was with other siblings (victims) was running towards his parents very frightened shouting 'awanen' (it's gone).
Their children May Joy, Sheena, and Maynard ages 6, 4 and 3, respectively, were totally burned and were buried the following day.
On the next day, as per instruction of DSWD Regional Director Marcelo Nicomedes J. Castillo, Social Workers conducted the Critical Incident Stress Debriefing (CISD) and food packs were handed along with the financial assistance from the LGU of San Gabriel.
Moreover, the Gacayan family will also receive Burial  and Emergency Shelter Assistance from DSWD.
Temporarily, the family shelters in a one-room bamboo house built by nearby folks.
Lost Dreams, Lost Treasures
As shared during the CISD, images of their happy children still occupy the thought of Mark, the head of the family. The couple's love and attention were always given back with more hugs and kisses from their children especially the last time they bid goodbye before going to their in-laws.As narrated, even with meager resources (Pantawid Pamilya beneficiary), Mark, being the family head is doing his best to provide a better future for his children. Nakaub-ubbing da pay a makarikna daytoy nakas-ang unay a pasamak (They are so frail and innocent to have experienced so much pain before dying), he wailed during the CISD.
The pregnant mother who at that moment cannot accept death of her children said she will keep a strong faith for the family and still pour the same love for the sake of her dead children. (by: Iryn D. Cubangbang, DSWD-Information Officer II)