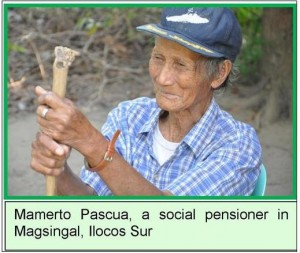 At the age of 91, living alone in a one-room house not well-kept, eating at least twice a day, cooking outside his abode, and visiting his neighbours complete the daily routine of social pensioner Mamerto Pascua of Magsingal, Ilocos Sur.
Mamerto's life had no trails of regrets. Born from a poor family, he tasted education only until fifth grade. He used to join vegetable delivery trucks in his younger years, afterwards tried community works as a Barangay Nutrition Scholar until his strength worn out.
With no family beside him, although he had 6 children, no one is extending assistance since his children are also in dire need. Then came the Social Pension Program of the Department of Social Welfare and Development (DSWD) which was seen as a real blessing.
Stipend Eases Pains of Poverty
The Php 1,500.00 given by DSWD Field Office 1 every quarter is the only money he got and spent sparingly until the next quarter.
With this, he buys 5 ganta of rice good for a month and his daily food supply.
To live within the means is really hard, but Lolo Mamerto got used to it. "Nu agmeryendaak iti malem, haan nakon a mangrabii (If I had snacks in the afternoon, I will not have dinner anymore)," he shared in sad tone.
At times when Lolo Mamerto has no money, he is at the mercy of his neighbours for his intake. With his stipend he eats but for twice a day only.
Wishing for More
With his last days on earth spent in poor situation, his only desire is for his daily sustenance and for his life to be improved. "Sumaysayaat koma iti biag ken adda latta koma makan ken masida (May my life be improved with food and viands always available), he said in his lovely voice. (by: Iryn D. Cubangbang, DSWD-Information Officer II)