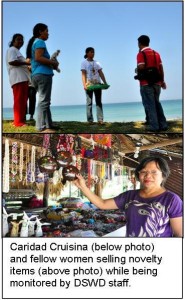 In the beautiful ivory-sand coastline of Pagudpud, Ilocos Norte, lined up shellcraft stalls of women provided with DSWD's capital assistance continue to showcase local novelty items giving an inch in the growing tourism industry.
Over the years, convergence of services from among the government offices such as DSWD, DOT and Local Government of Pagudpud continue to mark an improved quality of lives among the less fortunate women such as Caridad Crusina of Barangay Saud.
The capital assistance of Php 5,000 from DSWD and the training sponsored by the LGU of Pagudpud opened the door for her to join the small businesses of women in her community.
After retiring from being a domestic helper, she focused on raising her 7 children alone. Life was not easy for Caridad.
But with continuous hard work, patience and access to assistance given by various government agencies, her shell craft business had grown.
Earning a minimum income of Php 4,500.00 a month from selling shellcraft products during lean months is already considered an improved condition in her family's economic status. Not to brag, as mentioned by Caridad that during peak season she could earn at least Php 300.00 a day.
In addition, her house is also accredited by the Department of Tourism as a home-stay or transient homes for local and foreign visitors in the area.
The Loner, Now Overcomer
With hardwork, patience, and faith in God, Caridad's story of being a solo parent is not only an inspiration for her family but also in the community.
As a beneficiary of DSWD's Sustainable Livelihood Program, she did not fail to comply with the conditions of the Program. Accordingly, she spent the assistance properly on her business.
Her participation to monthly community clean-up and regular meeting of Barangay Officials continue to take effect in protecting and promoting their place.
With the small earnings that she now enjoys with her family, generosity and being at peace with her neighbors spell her success. ### (by: Iryn D. Cubangbang, DSWD-Information Officer II)