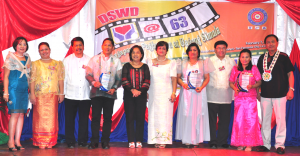 Sustaining the vigor and rigor on social protection programs implementation, DSWD is now on its 63rd founding celebration. Graced by DSWD Assistant Secretary Teodulo Romo, Jr. and Roy Calfoforo, CSO Focal Person from the Office of the Secretary, the event was  held   at  Oasis Country Resort Hotel, San Fernando City, La Union recently.
The event started with the parade of colors with DMMMSU cadets ushering DSWD officials, employees and guests on their prim Filipiniana gowns and outfits.
This year's event gave prime recognition to partner civil society organizations, media, regional line agencies, and other private groups together with DSWD awardees.
On ASec. Romo's message, the focused directions on improving the lives of the poor families through the converged social protection programs was exhorted. DSWD's second round of household assessment through the NHTS-PR or Listahanan which will identify the beneficiaries of government's programs was also mentioned.
Also,  ASec. Romo in his message, illustrated poverty and poor families as people being adrift in the sea of poverty. 'Kung ang kahirapan ay nahahalintulad sa karagatan, marami sa ating mga kababayan ang iniaahon natin papunta sa bangka para makaranas ng kaginhawaan sa tulong ng mga programa ng DSWD.
On the other hand, plaques and cash incentives were handed to the staff and employees who had been with the Department for 10 years and every 5 years interval thereafter.  Eliza Aromin, Nelson Nisperos, Jocelyn Mariano, Grace Rendon, Alma Gonzales, Flordeliza Manaois, Fredalyn Vendillo, Noemi Escalona, Agnes Tambalo, Mostiola Sampaga, Rolando Fortes, Bella Ferrer, Marina G. Cabañero, and Dir. Marcelo Nicomedes J. Castillo.
Regional Awardees were also recognized as follows: Lucila D. Galvez, Maricel Caleja, Anniely Ferrer, Clarivel Banzuela, and Dir. Marcelo Nicomedes J. Castillo.
At least 64 civil society organizations and 11 media institutions were also recognized on their contributions on Pantawid Pamilyang Pilipino Program and other DSWD programs. The CSOs acted  as resource persons/facilitators of Family Development Sessions and Enhancement and Reaffirmation of Paternal Abilities Training (ERPAT).
First Photo Journal on Poor  Social  Pensioners Launched
Together with bunch of stories on social protection programs in a Compendium dubbed as Social Protection and Poverty Reduction Hit Vol. II, DSWD Field Office 1 also recognized the significance of the Social Pension Program among its beneficiaries through the photo journal 'Kagay.'
'Kagay' is an Iluko term for shawl which represents the Social Pension Program of DSWD in providing a minimal but helpful stipend amounting to Php 500.00 monthly given quarterly. ### (by: Iryn D. Cubangbang, Regl. Information Officer)