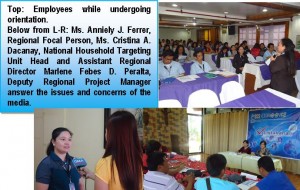 The Department of Social Welfare and Development Field Office 1 (DSWD FO1) continuously inform the public regarding the upcoming second round of Household (HH) Assessment of the National Household Targeting System for Poverty Reduction (NHTS-PR) Project.
All the employees of the entire region were oriented on the new brand name of the NHTS-PR, the "Listahanan", Talaan ng Pamilyang Nangangailangan so with the processes concerning the second round of HH assessment.
For easy recall, its new brand name ensures that all poor households in our region are properly identified as to who they are and where they live during the conduct of the second round of HH assessment.
 "Listahanan" features the complete and legitimate database of poor families deserving to be beneficiaries of social protection programs and services from the government. It is an information management system that identifies who and where the poor are.
All employees also planned their actions or activities on how they could help in advocating "Listahanan" and the second round of HH assessment basing on their own functions in the office.
For larger coverage of information dissemination to the public about the said nationwide activity, media partners region wide were also invited for a short press conference.
During the press conference, the media partners signify their support in educating the public through responsible broadcasting of right and true information.
In her official statement, Assistant Regional Director Marlene Febes D. Peralta, Deputy Regional Project Manager emphasized the importance of media in imparting and sharing the right information to the public about "Listahanan". She said that through the media, continuous promotion on the usability of the database of poor households will be achieved.
ARD Peralta also underscored that the Listahanan database will be updated every after four years as being mandated by Executive Order 867 which gives chances to the poor HHs not assessed in 2009 to undergo assessment and be included in the database if qualified.
The issues on exclusion and inclusion errors of the first round of HH assessment will be properly addressed in the second round of HH assessment. Saturation approach in the HH assessment will be employed to all rural barangays while pockets of poverty shall be the strategy for all urban barangays.
A total target of 928, 633 HHs will undergo HH assessment this year: 111,464 HHs-Ilocos Norte, 138,769 HHs-Ilocos Sur, 143, 262 HHs-La Union, and 525,138 HHs-Pangasinan (By Jaesem Ryan A. Gaces, Administrative Assistant III, Listahanan/NHTS-PR).