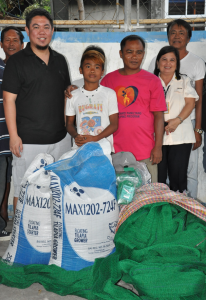 Twenty (20) Pantawid Pamilya beneficiaries who recently received assistance from the LGU of Vigan City   are now starting up their small businesses through the Pagsapulan: Raniag iti Masakbayan Project. This aims to  attain  zero poverty in Vigan City through the provision of livelihood projects.
Various microenterprise projects identified by the beneficiaries were proposed and assessed by a Local Verification Committee chaired by City Social Welfare Officer Celerina Agcamaran as to feasibility and capacity of the beneficiaries.
Projects include loading station, tricycle with franchise, livestock production, mini-stores, mini-carinderia, rolling store, fish pens, among others.
This project of Vigan City augments DSWD's Pantawid Pamilya Program and facilitates faster and holistic socio-economic development among the poor families
As mentioned by City Councilor Juan Carlo M. Singson, Chairman on Committee on Social Services, 55% of the Php320 million City's Internal Revenue Allotment (IRA) is appropriated to social services even though they claimed that Vigan is the poorest City in the entire country.
Giving prime concern to the needs of poor families is the very focus of the City's governance led by Mayor Medina, City Councilor Singson further mentioned.
"We are doing all these efforts for our children, by preparing better families and communities for the next generation," Mayor Eva Marie Medina once said in an interview.
Appreciations, High Hopes
With these help from the City Government of Vigan,  Pantawid Pamilya beneficiaries expressed gratefulness on these projects.
Beneficiary Juan Rabe is now excited on his fish pen project with the nets and fish pellets given by the City. 'Padur-asek daytoy a proyekto ta ipaay ko kadagiti annak ko  ta makaadal da' ( I will nurture this project  which is dedicated for my children's education).
Livestock production is also among the projects awarded to the Pantawid beneficiaries like Marcelina Arca who has 2 fattening cows used for plowing  the fields of which previously, they were renting from neighbours.
With the cash grants that they receive and the additional assistance of Vigan City, Marcelina  claimed that their lives are better now (Nasaysayaat, nalag-lag-an itan iti biagmi, ma'am).
With these, their gratefulness is undeniable. 'Agyamankami  kadagiti inted iti gobierno' (We thank the government for all of these assistance), Marcelina further mentioned. (by: Iryn D. Cubangbang, DSWD-Information Officer II)