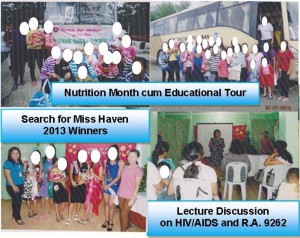 The Haven for Women (HFW) is now on its 14th year of providing temporary shelter and protective custody to women victim survivors of abuse along with their dependents. They are provided with rehabilitative center based services to facilitate healing and recovery from the effects of the crime committed against them in preparation for their eventual reintegration to their families/relatives and communities.
To achieve rehabilitative goals of these women victims, the involvement of their families and supportive relatives are considered through case conferences. Their presence is ensured for the delineation of roles and responsibilities for the attainment of treatment goals.
In celebration of its 14th year anniversary, the center conducted a lecture discussion on HIV/AIDS and R.A. 9262, emphasizing on Barangay Protection Order, Temporary Protection Order and Permanent Protection Order for women victims of abuse at the center for information along with 15 Pantawid Pamilya beneficiaries in the area as part of  convergence. These constant lecture discussions on varied topics concerning women erases ignorance among women clients, making them aware of legal laws and developing them into keen and knowledgeable individuals in the exercise of their rights and their children. With added knowledge stocked, they might not be as vulnerable as they were then.
Another activity is the conduct of Nutrition Month cum Educational Tour at the Benguet State University in La Trinidad, Benguet. 20 clients had actual on sight experience on how the school processes pickles, jams, jellies, and other products, adding to their knowledge and skills in livelihood. Their talents were also showcased in their socialization night highlighting the Search for Miss Haven 2013 where five women vied for the title. (By Jaesem Ryan A. Gaces, Administrative Assistant V, Listahanan/NHTS-PR  with report from Aida B. Rufo, SWO III)