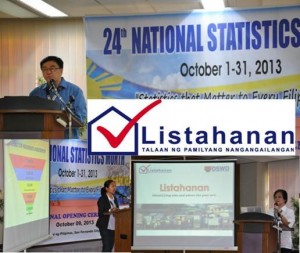 "Listahanan" features the legitimate database of poor families who deserve to receive social protection programs and services from the government.
The Department of Social Welfare and Development (DSWD) Field Office 1 proudly introduced "Listahanan" with its tagline Talaan ng Pamilyang Nangangailangan during the opening celebration of the 24th National Statistics Month with the theme "Statistics that Matter to Every Filipino" held at the Bangko Sentral ng Pilipinas, City of San Fernando, La Union in coordination with the National Statistical Coordination Board (NSCB).
"Listahanan" is now the new brand name of the National Household Targeting System for Poverty Reduction (NHTS-PR) project being spearheaded by the DSWD. This is a coined Filipino word which came from Listahan (List) and Tahanan (Households).
Regional Director Marcelo Nicomedes J. Castillo underscored that no one is exempted and shall be left behind. Thus, making an assurance that all poor households are properly identified as to who and where they are for them to be included in the "Listahanan" database through the second round of household assessment to be conducted this quarter.
Dir. Castillo highlighted that the "Listahanan" marks the beginning for all the vulnerable sectors of our society to experience an improved quality of life as being manifested in the living testimonies of numerous beneficiaries of social protection programs and services. That is why "Listahanan" continues to intensify its credibility being the prime source of accurate, complete, and reliable data to all existing stakeholders.
Assistant Regional Director Marlene Febes D. Peralta, Deputy Regional Project Manager formally introduced and articulated "Listahanan" along with the 928,633 households to be assessed entire the region for the second round of household assessment.
Simultaneous with the formal introduction of the "Listahanan", the Regional Profile of the Poor was also presented. The Regional Associate Statistician Glynnis S. Casuga presented the result of the household assessment conducted last 2009. The Regional Profile of the Poor highlights the relevance and importance of understanding the poor household's status and subsequently recommends appropriate interventions.
"Listahanan" Base kits and copies of the Regional Profile of the Poor were distributed to all the participants to include Government Agencies, Academe, Media Partners among others. "Listahanan" Base kits are valuable tools which aim to promote the importance of "Listahanan" among its stakeholders. It contains the Regional Profile of the Poor, briefers, and flyers.
With "Listahanan", DSWD is hopeful that this will have an easy recall and gain public awareness easier, thus stakeholders' access for social development.