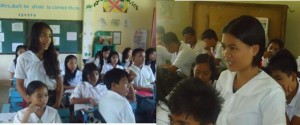 Both living in Brgy. Banga, Sugpon, Ilocos Sur, Hyacinth Joy R. Singasing, 12,  a Grade 8 student and Eleanor A. Luvida, 16, a fourth year student are determined and dared to trek the winding, slippery road and stride their  legs for an hour or more just to reach Sugpon National High School and pursue their Secondary education.
They are two of the children benefitting from the Agsugpon Tayo Project of the Department of Social Welfare and Development Field Office 1 (DSWD FO1).
"Saan ko kayat a maipada kadagiti nagannakko. Isunga agadalak a nasayaat agsipud ta mamatinak a siak ti mangital-o ti panagbiag iti pamiliami"  (I do not want to be like my parents. By my small ways and means, I believe that I can change our family's status by studying hard) said Eleanor.
Hyacinth Joy also uttered, "Kalikagumak ti maaddaan ti nasayaat a masakbayan tapnu matulongak to met dagiti nagannakko babaen ti innak panagadal." (I want to have a bright future so that in return, I can help my parents. So I must study hard.)
This is the driving force of the two students, not only for themselves alone but more for their families hoping that someday they will spin the wheel and bring them to the top. Both of them foresee that the realization of their dreams and success is now within their grasp through the Agsugpon Tayo Project.
Pieces of Advice in lieu of School Allowance
"Numanpay, agkurkurang ti maipabalonmi kadaytoy balasangmi, babaen ti panangbagbagami kanyana, isu ti mangpunno ti pagkuranganmi. Kanayon nga ibagbagak kanyana nga agadal a nasayaat ken agsingsingpet kadagiti pakidagdagusanna." (Though we cannot provide her with enough money for her school expenses, giving her pieces of advice would suffice our lackings. I always tell her to devote herself in her studies and behave well in the house of her Foster Parent) said Abraham Luvida, 48, father of Eleanor.
Leaving their parents for a week-long schooling is a struggle for Eleanor and Hyacinth Joy. They always keep in their mind the pieces of advice of their parents as they leave their house in the weekends for school. They will be staying in the house of their Foster Parents in the Poblacion near the school.
Gilbert B. Singasing, 30, father of Hyacinth Joy expressed that he is really grateful for the Foster Parents who let her daughter be accommodated in their house and considers her as their daughter as well. "Natibker ti pakinakemko nga
adda ti nasayaat a kasasaad a kanayon ti balasangko, numanpay awan kami a mangkitkita kenkuana ti panagbasana."  (Though we are not there directly at her side to guide her and attend to her needs, I am confident that she is in good hands.)
Foster Parent Cares
Like the biological parents, Vice Mayor Daniel C. Lańo Jr. being the foster parent of 24 students, one of them is Eleanor for four years also prays for the latter to graduate because this is the best way to bring transformation for her family. Vice Mayor Lańo views his role as very important so he makes sure that Eleanor goes to school regularly and encourages her to focus on her studies always. According to him, constant monitoring really helps in guiding Eleanor to the right path leading to her dreams. He also added that being a foster parent is a pledge not to be broken with due respect to the biological parents.
For almost four years being a foster parent, Vice Mayor Lańo realized that with the intervention brought about by the DSWD in the Agsugpon Tayo Project, the obligation of both parties is highlighted and strengthened so with the students as well through meetings and other activities.
Silbina R. Antok, 29, is now a mother of two with Hyacinth Joy already a part of her family. Considering that Hyacinth Joy is her niece, she full heartedly accommodated her to stay in their house. Silbina said that being the foster parent of Hyacinth is a great responsibility for her because her parents entrusted Hyacinth Joy to her.
More and More for the Future  
Mr. Romeo S. Venancio, the School Principal proudly stated that when Agsupon Tayo Project came into the picture, drop rate decreased because many students from far flung areas in the municipality enrolled already especially those grantees who stopped going to school. This led to the achievement level of the school to increase from 84% to 90% during the SY 2012-1013.
This is also being manifested by Municipal Mayor Fernando C. Quiton Sr. That is why he wants expansion of the project so that all youth in their locality will be sent to school through strengthened relationship of the Biological Parents and the Foster Parents. Having seen the project's great impact, he also wants it to be institutionalized, that in the end it shall be solely sustained by the Municipality.
By Jaesem Ryan A. Gaces, Administrative Assistant V, Listahanan/NHTS-PR