A total of 18,761 out of 22,665 target individuals from the different sectors in Region 1 received their salary during the simultaneous payout for the DSWD Cash-for-Work (CFW) Risk Resiliency Program – Climate Change Adaptation and Mitigation – Disaster Risk Reduction (RRP-CCAM-DRR). The beneficiaries are persons with disability (PWDs), solo parents, Pantawid Pamilyang Pilipino Program (4Ps) beneficiaries, older persons, and other indigent folks.
The PhP3,400.00 equivalent to the 10-day work in their respective communities pegged at the minimum regional wage rate of PhP340.00 per day was paid to each recipient. They did a series of community works such as community cleaning, carpentry work, and gardening, which are related to disaster mitigation, risk reduction, and rehabilitation.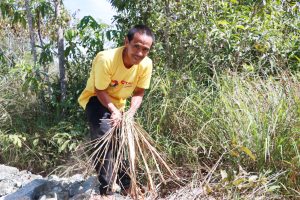 Virgilio A. Ancheta of Bugallon, Pangasinan beneficiary said, "Masaya ako dahil alam ko na sa simpleng ginawa ko ay mayroon akong malaking ambag sa ikakaganda ng aming lugar (I am happy because I know that with the simple act I did, I contributed to the big effect on the improvement of our place.)
The PhP63,787,400.00 was disbursed while remaining PhP13,273,600.00 will be distributed this January 2023 by the DSWD Field Office 1 to the beneficiaries.
The RRP-CCAM-DRR through its CFW is a program that provides temporary employment to the poor and to improve drainage canals, slope protection, tree planting, and improvement of irrigation that can be beneficial to their communities in terms of climate change and disaster risk reduction.
"It is implemented as a joint project of Provincial Social Welfare and Development Offices (PSWDOs) and DSWD Field Office 1 for the environment and families badly affected by the pandemic, increasing prices of fuel, and cost of commodities. The DSWD will continue to come up with risk reduction and rehabilitation projects not only to protect the nature but to also help families in low-income brackets", said Regional Director Marie Angela S. Gopalan.
"Maysa nak nga PWD iti lugar mi ket proud nak nga adda naaramid ko nga pagsay-atan para ti lugar mi. Nalag-an iti rikna lalo itadta nga baro tawen nga saan laeng siyak ken pamilyak iti natulungak nu di ket natulungak pay ti komudad ken ti aglawlaw (I am one of the PWDs in our Municipality and I am proud that I contributed to the betterment of our place. I felt good most especially this new year that the program does not only benefited me and my family but also the community and beautification of our surroundings), happily shared by Johna C. Betayan, a resident and CFW beneficiary from Alilem, Ilocos Sur.
The testimony proves that the program not only focuses on the improvement of nature for the future generation but also empowering communities to become disaster-resilient by combating the effects of climate change. Caring for the environment is indeed good to start the year. By: Nicole Kasandra A. Lipawen, Information Officer II – Disaster Response Management Division