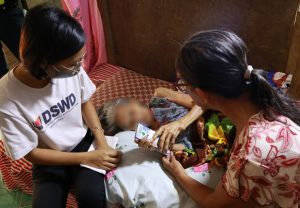 Being devotional is a one of a kind value in the Filipino culture. This is to seek guidance and resilience to face any challenge and test in life. This is relatable to the story of Benita Manuel, a Centenarian and social pensioner from Kalumsing, San Emilio, Ilocos Sur.
Lola Benita was personally visited by the Department of Social Welfare and Development Field Office 1 to hand over the cash incentive amounting to PhP100,000.00 on 28 October 2022. During the awarding of the centenarian cash gift, she shared her own prayer of gratitude saying, "Apo, pakawanem dagiti basbasol mi. Ikararag ko iti pigsa ken salun-at ko ken saan na kami baybay-an. Agyamyamanak Apo kadagitoy tattao nga nangted ti tulong kanyami, agyaman kami Apo iti pudpudno. Amen (Lord, forgive us our sins. I pray to strengthen me and improve my well-being and do not abandon us. I thank the people who helped us, I am truly grateful indeed. Amen)."
Every night, Lola Benita prays to the Lord for courage and strength to face the new morning. In her early years, she used to serve as one of the apostolate in their parish and volunteered as one of the prayer leaders in the different barangays of their hometown.
She lost her mother when she was a young child which made her confront life's challenges early. Lola Benita worked as a farmer once she had her own family to provide for her eight kids. Her faith and these experiences made her even stronger.
Moreover, Esmeralda Batacan, her daughter also shared that she has been praying sincerely to protect her family from danger and prolong her life. Lola Benita was truly strengthened by faith in heart, mind, and spirit.
Lola Benita qualifies as one of the Centenarians among the Filipinos whether in the Philippines or abroad as stipulated under the Republic Act No. 10868 also known as the "Centenarians Act of 2016". (by: Princess R. Dumpit, Information Officer I, Social Pension Program Management Office/ Social Marketing Unit)