Most people volunteer to give back, but there is another purpose behind it.
As we grow older, we experience an increasing number of major life changes including career transitions and retirement, and physical and health challenges. The way we handle and grow from these changes is often the key to healthy aging.
For some, getting older does not automatically mean poor health or home confinement. Plenty of older adults enjoy vigorous health, conscious of preventive measures like healthy eating, exercising, and managing stress that can reduce the risk of chronic disease or injuries in life.
Some say volunteering can help one make friends, learn new skills, and even feel happier and healthier.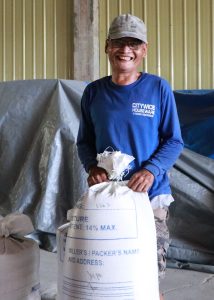 This is true to Danilo G. Tumabcao, a 63-year-old DSWD Field Office 1 (FO 1) volunteer. He proved that age does not matter when it comes to volunteering. He said that he experienced contentment since he started as a DSWD FO 1 volunteer.
"Iti walo a tawen, naragsakak nga agbalin a rangtay iti DSWD kadigiti marigrigat tapno maipaay da ti napaspas ken naimpusoan a serbisyo (For eight years, I am happy to be one of the DSWD's bridge in helping those in need to deliver fast and caring service)," shared Tatay Danilo.
Volunteers make an immeasurable difference in people's lives and often serve to help others while benefiting their health.
According to Mary Ann Dacanay, DSWD FO 1 Psychologist, "One of the indicators of good mental health is the ability to contribute to the community. When we engage in community services or volunteerism, we somehow find added meaning and purpose in our existence. It is also a means for us to stay connected to others; and being appreciated for such acts also adds to our inward happiness."
Laurata V. Peralta, a 60-year-old DSWD FO 1 volunteer, is a living proof to this. She volunteered three years ago, and the way she views life has changed. "Adda nak lang gamin balay ket kasla masayanganak ti oras isu pinilik nga agbalin a kas maysa a DSWD volunteer tapnu makatulong ti padak a tao. Makapalag-an ken makaparagsak iti ag-volunteer ta sabali talaga iti rikna nu makatulong ti ad-adda nga agkasapulan. Nagmayat aglalu nu adu kami nga agkakadwa a volunteer, naragsak ken saan mi malagipen a kumita ti oras (I was just staying at home and it felt like I was wasting time that is why I decided to be a DSWD volunteer to help those who are in need. It feels light and fun to be a volunteer because it feels really different when you know you are helping others who are in need. I enjoy especially when there are a lot of volunteers and we lose track of time)," Nanay Laurata added when asked of her own perspective since she became a DSWD volunteer.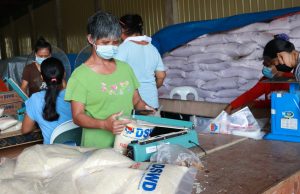 To date, there are 445 brave and hardworking DSWD FO 1 volunteers in Region 1 who devote their time and effort in assisting the Department to fulfill its mission to provide a maagap at mapagkalingang serbisyo to those who are in need in times of disaster.
Meanwhile, DSWD does not encourage senior citizens to volunteer but as long as they can prove that they are fit to work, they may coordinate with DSWD for assessment.
It is important to build resilience and find healthy ways to cope with challenges – the ability that will make the most of the good times and keep perspective when times are tough. How about you, how do you cope to maintain your mental well-being? by Nicole Kasandra A. Lipawen, Information Officer II – Disaster Response Management Division