Breadwinning comes with a level of pressure that no one can explain, just what Maria Alcantara, a 69-year-old resident of Bungar, Malasiqui, Pangasinan is experiencing.
Being the eldest of 12 siblings from an impoverished family, the responsibility of helping the family is already on the shoulder of Maria as a child in her early years. She prioritized her family's well-being which is why she only completed elementary and eventually worked as a housekeeper. She got married at the age of 26.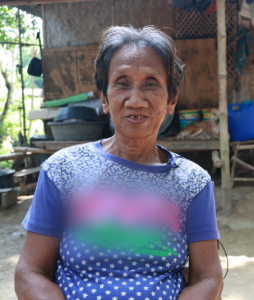 Now at 69, she is still working in her senior years to make both ends meet for her family. "Am-ammo dak ditoy a kas maysa labandera iti Bungar. Adda met masweldok a PhP200.00 kada laba, tallo a daras ti uneg iti maysa a lawas. Nu adda ag minatay, mapan nak agdalus. Ikkan dak met iti makan ken nu maranaan adda ited da a kwarta. Uray birthday, maysa nak a para luto ditoy barangaymi (I am known in Bungar as a laundress. I earn PhP200.00 per laundry, three times a week. Sometimes, I work as a cleaner during wakes, accepting any food or in kind. I also cook if there are birthday celebrations in our barangay)."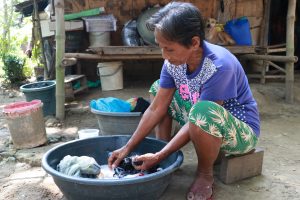 Despite Nanay Maria's husband's lack of opportunities due to rheumatism and still look after their grandchildren who are in primary school, she continues to be optimistic and believes that it is how life goes on. Because of her responsibilities, her greatest fear is becoming ill like what happened last September 2021. She was bedridden for a month and was constantly sick. Nanay Maria could not help but cry due to anxiousness because she was afraid of being infected with COVID-19 virus and of losing her job. Hence, she is grateful to be one of the indigent senior citizens who are receiving a stipend of PhP500.00 every month from the Department of Social Welfare and Development Field Office 1 (DSWD FO 1) under the Social Pension Program for more than four years now. 
Nanay Maria expressed her gratitude saying, "Gumin-awa ti kasasaad iti biag ta adda ti DSWD ken sabali a tattao a tumultulong kaniyak. Saan met nga inaldaw ket adda birokko.  Dakkel a banag para ti pangbayad ko iti koryente, makan, agas ni lakayko, balon dagiti apok, ken panggastos mi ti inaldaw (The way of living gets easier because there is DSWD and other people who are always helping me. It is not every day that I am able to earn money. It is a big deal since I pay for the electricity, food, medications of my husband, allowances of my grandchildren, and daily expenses)."

With these experiences, Nanay Maria still manages to smile and keep the faith through the ups and downs of life coupled with prayers. "Apo Dios, iturong mo daytoy sakak nu aniaman ti papanak manen. Uray narigat ti biag, ikatawak latta (God, guide me wherever I may go. Though life is already difficult, I will just laugh it off)." (by: Princess R. Dumpit, Information Officer I, Social Pension Program Management Office/ Social Marketing Unit)