In partnership with the Local Government Units (LGUs), 12 Regional and Satellite Warehouses are now active in Region 1.
Over the past few months, Region 1 faced emergencies that challenged our ability to efficiently – respond given the nuances.
The Covid-19 pandemic – the first major public health emergency we have experienced that started in 2019, the typhoons, fire and tornado incidents, and the recent earthquake that surprised many.
That is why the DSWD Field Office 1 (DSWD FO 1) Disaster Response Management Division tripled its effort to coordinate with the LGUs to preposition Food and Non-Food Items (FNFIs).
This resulted in additional five government facilities which served as satellite warehouses.
Two new satellite warehouses are located at Tagudin and San Emilio in Ilocos Sur, and three are in Batac, Burgos, and Dingras in the province of Ilocos Norte.
To date, Field Office 1 has established 12 Regional and Satellite warehouses situated at strategic locations in different provinces.
Three regional warehouses are located at Urayong, Bauang and Biday, San Fernando City in La Union, and barangay Camangaan in Laoag City, Ilocos Norte while nine LGU facilities serves as satellite warehouses at Vigan City in Ilocos Sur; and Rosales, Sta. Barbara, and Alaminos City in Pangasinan.
These identified LGUs are now considered part of the Response Operations Cluster and shall ensure the safety and cleanliness of the relief items and the availability of proper ventilation.
The establishment of warehouses in Region 1 is geared towards enhancing disaster-related services and supporting the nearby regions of Region 2 and Cordillera Administrative Region (CAR).
As of September 1, 2022, 14,883 Family Food Packs (FFPs) and 5,490 Non-Food Items (NFIs) were provided in the region. Most of those augmented FNFIs in Region 1 are affected by the said man-made and natural disasters.
Apart from these, 17,150 FFPs and 250 NFIs were augmented to the DSWD CAR specifically for the affected families and individuals of the magnitude 7 Earthquake.
Currently, 23,019 FFPs and 11,290 NFIs are prepositioned in the warehouses that will expedite the delivery of relief made possible with the joint effort of the 304 DSWD FO 1 volunteers and Regional Disaster Risk Reduction Management Council 1 (RDRRMC 1).
---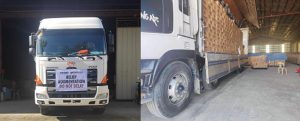 ---
DSWD encourages other LGUs to partner in providing the Maagap at Mapagkalingang Serbisyo to vulnerable sectors by entering a Relief Prepositioning Agreement.
The agency believes that collaborative effort will make us achieve our dreams for resilient communities and reach more beneficiaries in the fastest way possible.  Just like the saying goes, "With Teamwork, the Dreams Work". by Nicole Kasandra A. Lipawen, Information Officer II – Disaster Response Management Division