Every senior has its story – it can be sad, happy, exciting, or a mix of everything.
But Lola Martina's story is different. 
Meet Martina U. Layog, a 91-year old DSWD Social Pensioner from Barangay Aluling, Cervantes, Ilocos Sur.
Still looking strong at her age, the community where she belongs describes her as a cheerful person who seems not to have problems at all.
"Mayat ti agbiag lalo nu manag-isem tayo tapnu haan nga bumaket ti itsura tayo," (It is good to live especially if we are always smiling so that we won't look old.) she happily shared.
When asked about Lola Martina's secret, she said, "Kaasi met ni Apo nu adda dumteng nga problema, ket masolbar met ladta uray kasatno rigat iti biag – be happy kanayon uray inya iti mangmangyari tapnu nalag-an iti panag-biag."
Positive in life, she implied that when a problem comes, it is solved no matter how difficult life is, and to always be grateful for life no matter what it may bring.
She always drinks milk and loves to eat her all-time favorite – vegetables.
"Nateng laeng iti kankanek talaga. Isu iti maysa nga pang-ususarak iti pension ko nga naggapu iti DSWD," (I only eat vegetables, and I use some of my pension to buy it.), she mentioned.
Lola Martina expressed her gratitude to DSWD Field Office 1 (DSWD FO 1) for coming to their barangay and personally giving the pension. She said it is an added resource to purchase food.
---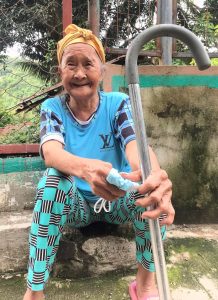 ---
On this note, the DSWD FO 1 Social Pension Program Management Office (SPPMO) reported that they doubled their efforts in coordinating with the local government units (LGUs), the DSWD City and Municipal Operations Offices (C/MOOs), and the Social Welfare and Development Team Leaders during the COVID-19 pandemic.
"We allowed electronic sending of authorization letters for those who cannot claim their pension in person. In this way, the DSWD staff and pensioners will be safe from COVID-19," said SPPMO head Eliza Aromin.
In 2022, 205,291 social pensioners received their stipend for the first quarter and 203,499 social pensioners in the second quarter. In quarter three, 103,316 have received the pension.
Aromin calls on social pensioners and/or their immediate families to communicate with their LGUs if they have not yet received their stipend.
Based on Memorandum Circular No. 16 series of 2021, the absence of one quarterly payout shall cause suspension of the right on the stipend if unclaimed within six months.
The SPPMO recorded 206,074 pensioners this year.
Social Pension or SocPen is a DSWD program under Republic Act No. 9994 or the Expanded Senior Citizens Act of 2010. It provides a PhP500.00 monthly stipend to qualified indigent senior citizen beneficiaries who are frail, sickly, or with disability.
Moreover, eligible beneficiaries are those who do not receive any pension from other government agencies; or must be without a permanent source of income or financial assistance or compensation to support their basic needs.
Like Lola Martina, the secret of staying young at heart is to live happily and be grateful no matter what life brings. How about you? by Nicole Kasandra A. Lipawen, Information Officer II – Disaster Response Management Division