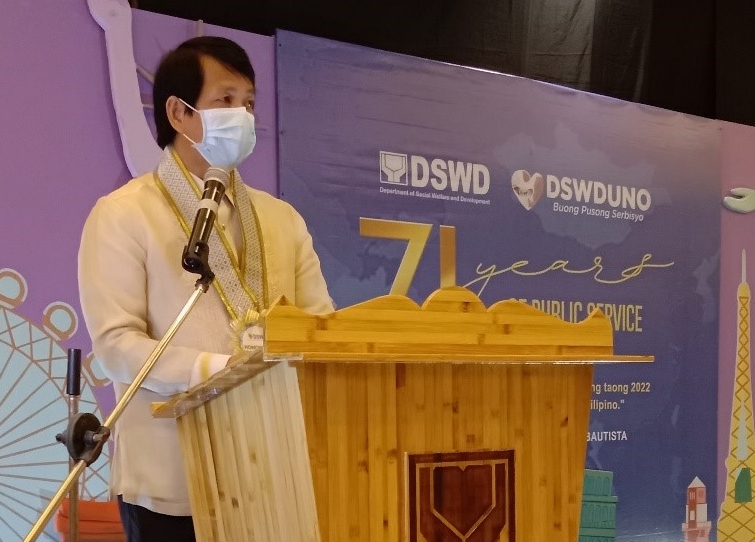 In commemoration of the 71st Anniversary of the Department of Social Welfare and Development (DSWD) at the Field Office 1 (FO 1), Secretary Rolando Joselito D. Bautista attended the region-wide celebration to laud outstanding employees and partners.
With this year's theme: "DSWD@71: Napapanahon na Pagtugon sa Suliranin ng Taong 2022 Kabalikat ng Katatagan ng Bawat Pilipino," the event was set to recognize the exemplary performance of employees, partners and stakeholders who have contributed to the Department's aim to provide a "Maagap at Mapagkalingang Serbisyo' to the poor and vulnerable.
"The commitment to serve and the willingness to deliver beyond what is expected entails brilliant minds and selfless hearts. I thank the DSWD FO 1 employees and our partners for giving an extra mile in ensuring that Filipinos are protected from the adverse effects brought about by the pandemic and disasters that hit the country," Sec. Bautista said.
"DSWD FO 1's accomplishments on the various social protection programs under the leadership of Regional Director Marie Angela S. Gopalan have huge contributions to the implementation of the mandates of the Department as a whole," Sec. Bautista added.
During the event, Secretary Bautista assisted by Director Gopalan conferred the Academic Achievers, Character and Loyalty Awards and the 2021 Program on Awards and Incentives for Service Excellence (PRAISE) including special citations to employees who have shown passion, commitment and excellence in performing both personal and official work functions.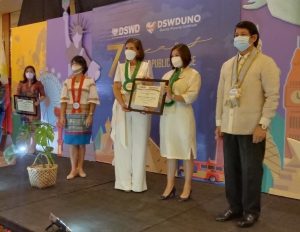 The Department also granted the Gawad Estrelya Awards such as Pagkilala sa Natatanging Kontribusyon sa Bayan Awards (PANATA Ko sa Bayan), Salamat Po, Gawad sa Paglilingkod sa Sambayanan (GAPAS), GAWAD Makabagong Teknolohiya Award and other special citations to partner local government units (LGUs), public and private organizations and volunteer groups from the provinces of Pangasinan, La Union, Ilocos Sur and Ilocos Norte.
In the response of Balungao, Pangasinan Mayor Maria Theresa Peralta who is a recipient of the GAPAS Award Model LGU Implementing Pantawid Pamilyang Pilipino Program (4Ps) stated that the difficulty in implementing the programs and projects being in the middle of a crossfire is not easy especially during the pandemic.
"However, the only way to achieving is believing. Our only capital is our heads, our hearts and our hands. Our resources are only limited and we thank DSWD for reminding us to doing an extra mile, and for co-existing with LGUs. Indeed, you are our Angels in Red Vest," she mentioned.
Aside from the recognition rites, the celebration included the Search for KingTatay and ReyNanay 2022 and an Iloco Singing Contest. These were participated in by FO 1 personnel to showcase their talents.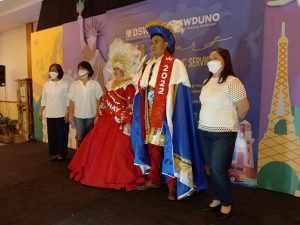 Michale Nite Ramos and Fe Sarmiento who represented the Statutory Programs Division were crowned as KingTatay and ReyNanay, respectively, while May-Ann Grace Costales of the 4Ps Regional Program Management Office bagged the first place on the singing match.
In closing, Regional Director Gopalan said, "I hope that this celebration recognizing our efforts and our innate ability to cope work challenges through sense of fun will carry us throughout the year. I am looking forward to 2022 for a better DSWD Uno na may Buong Pusong Serbisyo." (By: Anne Hazel Fajardo-Flores, Social Marketing Officer III, KALAHI-CIDSS RPMO/ Social Marketing Unit)