A trunk of creativity, chiseled determination, and a toolbox of patience are just some of the secret ingredients of Marylin in creating fascinating tables, chairs, doors, windows, and many other types of furniture.
Furniture making has been part of the everyday life of Marylin Estolas' family since she dreamt of having a furniture shop 21 years ago. She is a resident of Brgy. Leones West, Tubao, La Union, a mother of four, and a Sustainable Livelihood Program (SLP) beneficiary – one of the 115,064 women who received assistance from DSWD – Field Office 1 SLP.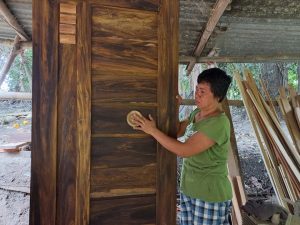 Receiving PhP10,000 worth of Seed Capital Fund from the program is a stepping stone for her livelihood to improve the facilities and equipment to create and offer excellent products in the competitive industry of furniture making.
Marylin is the mind behind the designs of every piece of furniture; her husband helps her give life to her ideas. Apart from that, their children effectively market their products online as it now reaches provinces of Pangasinan and Cavite, Metro Manila, and other places in the country.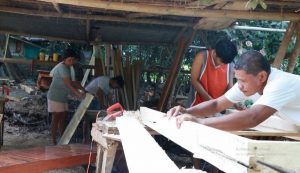 "Gapu iti tulong ti SLP, haan lang a limmag-an ti panagbiagmi, napatarimaan ko diay balaymi, napaadal ko dagidiay anak ko, nakapundarak iti babuyan ken pinakaimporte ket dimmakel pay ti kumpyansak iti bagbagik (Because of the help from SLP, not only my family's life improved, I was also able to fix our house, send my children to school, establish a piggery, and most importantly, my self-confidence boosted)."
Through the two decades of making furniture, Marylin formulated the complete ingredients of success – creativity, determination, and patience fueled by the assistance from SLP and the cumulative efforts of the members of her family. #(by: John Chris B. Zureta, Social Marketing Officer, Sustainable Livelihood Program)