For the past four years, Typhoon Maring caused the worst flooding experienced in Region 1 displacing a total of 230,443 families with 917,300 individuals affected in 1,286 barangays according to the DSWD Field Office 1 terminal report.
"Nagkaroon kami iti trauma idiay Bagyong Maring. Nagtulid idiay balaymi diay dakkel nga bato, kunak nu agtulid kinyami ngem tinurong na diay balaymi. Awan pay pulos mapanunotmi idi, nablangko talaga panunotmi nga ag-ina (We already have trauma due to Typhoon Maring. A huge rolling rock had gone straight to our house which I thought would go straight to us. We cannot think straight that time. We went blank)," said Victoria A. Agsam of Casilagan, San Juan, La Union.

A total of 3,763 residents in San Juan, La Union benefit from the ECT of DSWD Field Office 1 through the Disaster Response Management Division (DRMD). The release of the ECT pilot implementation beneficiaries in the said municipality was facilitated on 27-28 December 2021. Identified eligible families received a total amount of PhP7,650 each, based on the 75% daily wage rate in Region 1 multiplied by 30 days, to augment their daily subsistence for early recovery. Families who received their financial assistance used it to purchase their basic necessities and repaired their damaged houses.
"Grabe diay butengmi ta haan kami met maka-evacuate ta na-trap kamin, adalem met unay tay danumen. Idi nginmato iti danum, napirdi tay diding iti balaymi – nawasak. Idi naawat ko diay Emergency Cash Transfer, isu iti panangtarimaan ko tay diding ti balaymi. Tapos diaydaduma ket ingatangmi tay gamitmi nga naanod ken daduma ket ingatangmi ti kanen mi ken maintenance ko nga agas (We were very scared since we could no longer evacuate because we were trapped. When the water surged, the wall of our house was totally destroyed. When I received the Emergency Cash Transfer, I used it to rebuild the wall of our house. The rest of the money was used to buy household items lost due to the flood, food, and maintenance medicine)," shared Sonny B. Ganaden, one of the ECT beneficiaries.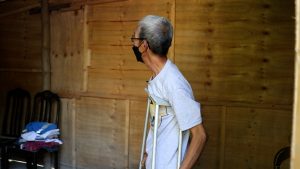 To further augment the affected families in Region 1, the Municipality of Tagudin, Ilocos Sur requested for additional assistance and was considered based on the criteria to be covered by ECT – that is the areas with high number of affected population and declaration of state of calamity. The Municipality declared a state of calamity through Resolution No. 173 in October 2021 due to the massive flooding and extensive destruction and damages of houses in all barangays. There were 10,132 affected families based on the DSWD FO 1 terminal report, hence, considered as target beneficiaries for the ECT implementation in the municipality.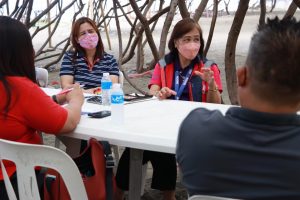 ECT target beneficiaries are the poor listed in the National Household Targeting System (NHTS) data base, and affected families of the following sectors: not listed as poor but residing in easily-isolated or geographically isolated and disadvantaged areas (GIDAs) and disaster prone hazard areas; with members who are persons with disability, elderly, children, pregnant, or lactating women; with dead family members caused by the disaster, with damaged houses; and families which due to the damage they sustained became transitional or "new poor' and are not able to provide for their own requirements especially during relief phase.
The creation of ECT in partnership with World Bank provides unconditional cash-support or through cash-for-work scheme to qualified disaster victims to support their early recovery. This is also designed to reduce financial administrative costs of the government and implementing agencies, reduce security risks for personnel, lessen logistics demands, and support the early restoration of local markets. By: Nicole Kasandra A. Lipawen, Information Officer II