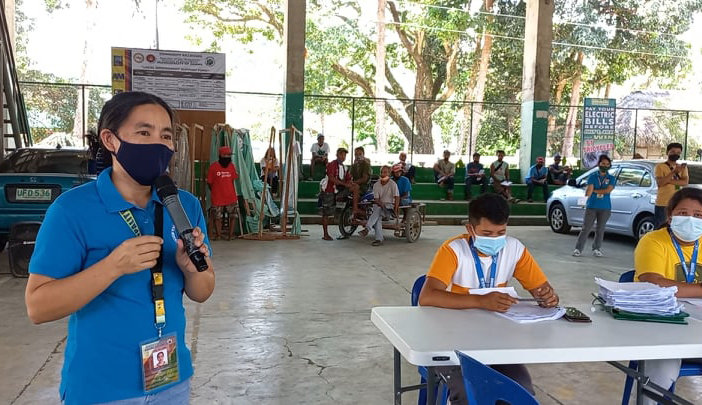 A total of 105 micro entrepreneurs from Adams, Ilocos Norte received the Livelihood Assistance Grant (LAG) on 1 July 2021 from the Department of Social Welfare and Development Field Office 1 (DSWD FO 1) in partnership with the municipal government.
Jennifer B. Obunan, a 28-year-old Yapayao soft broom maker and LAG recipient, said that border restrictions from other provinces have gravely affected their livelihood as they can no longer market their products outside Ilocos Norte. They usually supply soft brooms in the nearby provinces of Cagayan and Ilocos Sur.
"Permi a kimmapsot iti lako mi ta marigatan kam lang garud agibyahen, awan pay unay iti turista dituyen (Our sales went down since it is already hard for us to travel our products, there are also less tourists visiting our place)," she added.
Municipal Social Welfare and Development Officer Cherie Marie B. Tarnate reminded the LAG recipients to properly utilize the assistance given to them. "Nagasat tayo ta adda daytoy a programa iti DSWD. Sapay kuma ta usarenyo daytoy a tulong iti dapat a pakaipapanan na (We are lucky that there is this kind of program of DSWD. Please use this assistance for its intended purpose)," said Tarnate.
DSWD FO 1 allocated more than PHP 1.1 million for the said recipients whose livelihood are mostly on soft broom making, vegetable vending, and furniture making.
Adams is a 5th class municipality composed of only one barangay and is located in the northern coast of the province. Known for its 18 waterfalls and scenic mountain views, the said town is a rising destination in Ilocos Norte. Its population is a mixture of different tribes such as Ilocanos, Yapayaos, Immallods, Kankanaeys, and Bago. (by: Radz Bismonte, Social Marketing Officer, Sustainable Livelihood Program)