Regional Director Marie Angela S. Gopalan's recent visit to DSWD projects in Ilocos Norte paved way for alliance building among Local Chief Executives (LCEs) of Laoag City, Currimao, Adams, Ilocos Norte who openly shared their active involvement and appreciation of the Agency's social protection programs and services.
A quick face to face with Governor Matthew J. Marcos Manotoc in front of Ilocos Norte Capitol was a strategy to abide with the minimum health protocols. The Governor thanked RD Gopalan for taking time to meet him and assured effective collaborative works of the Provincial Social Welfare and Development Office led by PSWDO Lillian Celia C. Rin.
This two-day visit confirms DSWD's confidence to Local Government Units as partners in social welfare and development programs. "LCEs and local government in general are key to channeling government resources to ensure that basic social services reach individuals and families especially during emergencies," RD Gopalan said.
Joining the LCEs for the first time in different venues, RD Gopalan's presence meant a lot to foster successful implementation and participation of beneficiaries as mentioned by these LCEs during the event.
Currimao Mayor Quilala reminded the170 beneficiaries of the Livelihood Assistance Grants to make good in their chosen enterprise, to value the assistance and be cooperative to the instructions of DSWD. They received a total of Php 1.7 M or Php 10,000.00 each as seed capital to support their microenterprise especially now that there is a pandemic.
In Adams, Ilocos Norte, Mayor Rosalia Dupagen boasts of people's healthy living as natural measure to protect them from COVID-19. Also, the activities that preserve their environment were complemented by the Cash–For-Work Program. Activities that mitigate the effects of climate change and prepare communities' structures to withstand the effects of disaster such as clearing of roads and pathways and declogging of canals. A total of 158 locals received a total of PhP 402,900 for these activities.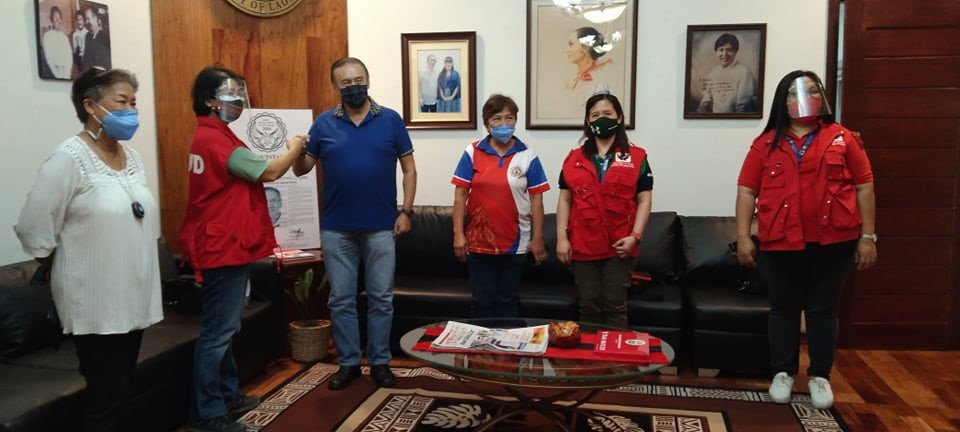 Laoag City Mayor Michael Keon expressed warm welcome to the new Director and his office being open to DSWD for whatever support he may contribute for the welfare of his constituents. He presented a proposal for DSWD's possible funding augmentation for the establishment of one Senior Citizen Center. ### By: Iryn D. Cubangbang, IO II, Social Marketing Unit)