Listahanan or the National Household Targeting System for Poverty Reduction (NHTS-PR) of the Department of Social Welfare and Development Field Office 1 (DSWD FO 1) is no longer accepting complaints from the public via community desk or online at http://listahanan.dswd.gov.ph/grievance/ regarding the "initial list of poor households" that was posted in Barangay Halls from October 2020 to January 2021 as part of the Validation and Finalization Phase of Listahanan 3 (L3).
The public was given an ample time to review the said list and appeal for an assessment if they are not visited during the regular assessment or appeal for re-assessment if they believe that their household is poor but is not in the initial list of poor households.
As of 21 March 2021, 174,066 grievances and inquiries were received by L3 Area Supervisors and Listahanan online grievance system according to the consolidated report of the National Household Targeting Section (NHTS) Regional Associate Statistician Ryan P. Arbollente. Out of the 174,066 grievances received, 107,758 grievances are requests for re-assessment; 41,231 grievances are appeals for assessment; 14,396 complaints are requests for editing, adding, and removing information of their households; 31 grievances are demands for deletion of their household in the database; and 10,650 are general inquiries.
From the 107,758 grievances requesting re-assessment, 69,970 households were endorsed by the Barangay Verification Team (BVT) and approved by the Local Verification Committee (LVC) for re-assessment. The remaining 37,788 households were not assessed because they already transferred to other province or region in the Philippines or did not pass the Grievance Evaluation Tool Rating Guide by BVT.
The role of BVT composed of the Barangay Captain, 1st Barangay Councilor, Barangay Councilor in-charge of Social Services, and at least two (2) staff from civil society organizations, people's organizations, or faith-based groups and the role of city/municipal LVC composed of the Local Chief Executive or his/her duly authorized representative, the Local Social Welfare and Development Officer, the Local Planning and Development Coordinator, and at least two (2) representatives from non-government organizations are graciously accepted to help the Listahanan Project in objectively reviewing and resolving the appeals or grievances from the community. In an interview during the DSWD FO 1 Facebook live of DSWD Uno: Balita at Kwento on 16 March 2021, NHTS Regional Field Coordinator (RFC) / Head Joan N. Dacumos recognized the support of the Local Government Unit (LGU) in the implementation of Listahanan.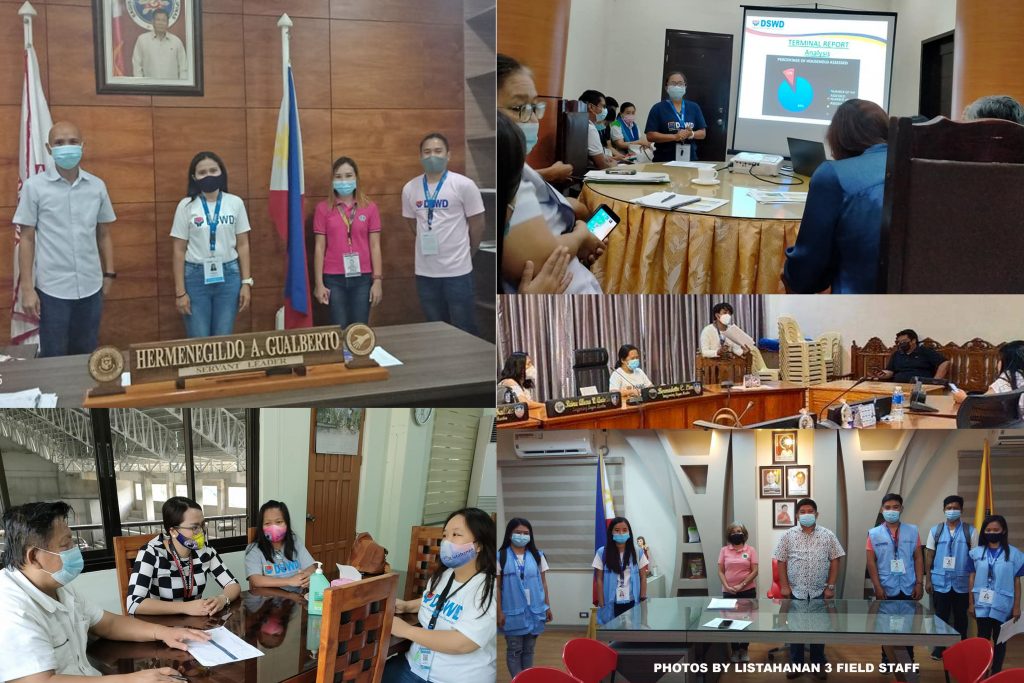 Ako po ay lubos na nagpapasalamat sa lahat: sa ating LGUs, sa lahat ng mga Barangay Officials na tumulong, at sa lahat ng mga indibidwal na nakilahok at nakipagparticipate sa ginawa nating Validation and Finalization Phase. Saludo po kami sa inyo kasi kayo po ay aming katuwang sa pagbuo ng isang maayos na listahan (I am grateful to the Barangay Officials and LGUs that provided assistance and to all who joined and participated in the Validation and Finalization Phase of Listahanan 3. We salute you for being our partners in creating a better list of poor households)," said NHTS RFC Dacumos during the interview.
NHTS-PR or Listahanan is a project of DSWD that identifies who and where the poor are using a systematic way of predicting the per capita income of a household called Proxy Means Test. The data of poor households of Listahanan is not a guarantee of inclusion to any program of the government but serves as the basis of national government agencies and other stakeholders in identifying potential benificiaries of their social protection programs and services for poverty alleviation and other appropriate interventions. (by: Jaymante Pearl B. Apilado, Administrative Assistant III, NHTS-PR/Listahanan)