Director Marcelo Nicomedes J. Castillo has made a huge governmental impact that deeply transformed the lives of the clients and beneficiaries and improved organizational environment and systems in the Field Office. In his nine years of stay in Field Office 1, Director Castillo spearheaded and pushed for the ISO 9001:2015 Certification that expedites the provision of various programs and services leading to better service delivery. Through his leadership, the Field Office has attained the Level II Accreditation (Bronze Level) from the Civil Service Commission ensuring all human resource management processes and systems are attuned with global human resource management standards and requirements.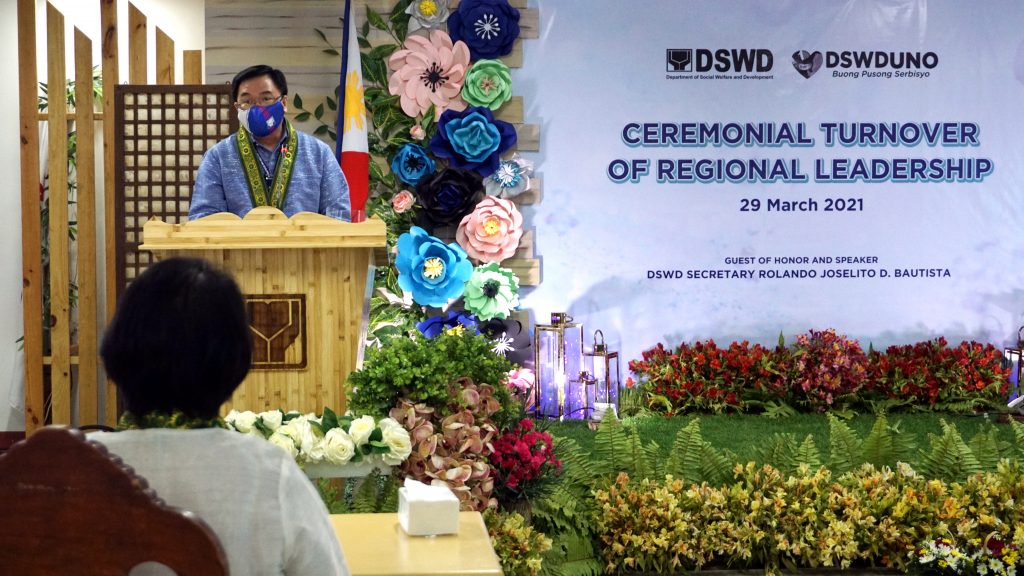 As a steward of government resources and advocate of prudence, Director Castillo observed austerity measures particularly on electricity usage and energy utilization and management. Thus, Field Office 1 proper was graded A with a total score of 94.8% in the conducted Energy Audit by the Department of Energy in 2019. Despite low budget for infrastructure improvements, Director Castillo made possible the improvements and construction of buildings for the Field Office through collaboration with the Department of Public Works and Highways Region 1 to address the burgeoning number of FO employees.
When the Enhanced Community Quarantine (ECQ) was implemented in the whole Luzon in March 2020, through the guidance of Director Castillo, the FO 1 immediately activated its Incident Command System (ICS), a standardized hierarchical structure that allows for a cooperative response to organize and coordinate response activities. The ICS then led to the creation of the Incident Management Team that provides on-scene incident management support on the onset of pandemic.
The initiatives and efforts of Director Castillo have translated into recognition, thereby acknowledging his contributions to the Department and the government as a whole. He received numerous awards such as DSWD PRAISE Best Manager and the DSWD PRAISE Gawad HUWARAN, the highest award that DSWD confers to its employee who is able to consistently demonstrate exemplary ethical behavior on the observance of public service norms and render extraordinary work performance based on DSWD's core values, thus, significantly contributing and making a positive impact in the workplace and outside the Department. Director Castillo was also conferred the Diego Silang Award by the Provincial Government of La Union, the highest award given to qualified individuals who are non-residents of the Province of La Union but whose efforts have contributed greatly to the progress of La Union and the well-being of the people. Other awards that the Regional Director received include Gawad Kalasag Regional Awards for Excellence in Disaster Risk Reduction and Management and Humanitarian Assistance, Most Inspiring Leader of the Year in Region 1 from the Office of Civil Defense, Finalist of the Gawad CES Presidential Award, among others.
During the Ceremonial Turnover of Regional Leadership conducted at the Panlipunan Hall of the Field Office, Director Castillo shared "Nine years ago, you welcomed me with much funfare, and now you have to send me off in a solemn way. I asked you then to walk/work with me on my way to leading the Field Office, and you did. It's an honor and a privilege to have been in this journey with all the committed and dedicated staff of Field Office 1. This day is momentous. Now, I'm at the other end, leading the whole of DSWD FO 1 in welcoming our new Regional Director, Marie Angela "Lala" S. Gopalan. Hence, this day is not about accomplishments, achievements, or legacy but of continuity. We are all in a continuum, what's important is service, service to the max with a heart. DSWD UNO, Buong Pusong Serbisyo! I am blessed being assigned here in Region 1 for nine years. I'm on my ninth year and now looking forward to a new frontier. Region 1 is a warm place, but the people here are warmer. Thus, an atmosphere of warm interactions is taking place. I thank and salute the workforce of DSWD Field Office 1, to all present and to all out in the Field, as well as our partner local government units, local chief executives, district offices, local social welfare and development offices, child development workers, social welfare and development agencies, other national government agencies, Commission on Audit, volunteers, and beneficiaries, for their ever present support and cooperation throughout my term here at the Region. Please do so to a dear friend of mine, RD Lala. RD Lala take care of and love them." Director Castillo ended his message by thanking the Regional Directors from other Field Offices and the DSWD Secretary for all the support and guidance he has provided to Director Castillo.
Director Marcelo Nicomedes J. Castillo started his leadership at DSWD Field Office 1 on 1 March 2012 and will officially end his headship on 31 March 2021. # (by: Darwin T. Chan, Social Marketing Unit)