Embracing the new normal, the DSWD FO 1 – Regional Rehabilitation Center for Youth (RRCY) conducted an awarding ceremony to recognize the diligence of its residents who successfully completed School Year 2019-2020 in the junior and senior high school. The program aimed to reinforce positive behavior and celebrate academic milestones of its clientele. The awarding was conducted in four batches of about 20 residents each to facilitate physical distancing.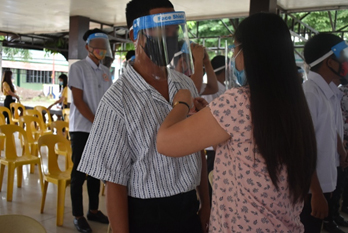 The moving-up ceremony for junior high school completers and the graduation for the senior high school graduates were the highlights of the event. Completers and graduates marched with their case managers or houseparents and received their certificates of completion. In the gratitude speech delivered by Neil (not his real name), he said, "Pangarap kong maging pulis. Alam kong ikaw, kayo, may kanya-kanyang pangarap sa buhay. Narito tayo upang unti-unting tuparin ang mga pangarap na ito. (My dream is to become a police officer. I know you have your own dreams as well. We are here to pursue our dreams one step at a time.)" Neil is undergoing rehabilitation in the Center for about four years now. He is a proud senior high school graduate of Wenceslao National High School, Wenceslao, Caba, La Union. Parents and family members sent virtual support to the completers and graduates through short video messages viewed during the program.
Meanwhile, as a culmination to the Sports Fest 2020, victors in the different individual sports event were awarded.The program was held to recognize the athletes who excelled in various individual sports event during the month-long RRCY sports fest. The residents competed in table tennis, badminton, 30-meter dash, board games,among others. Winners received certificates and minimal cash prizes which they can utilize to purchase some of their basic needs. Dr. Ofelia Veridiano, Medical Officer IV of RRCY said that the annual sports fest is primarily held to promote holistic wellbeing among residents amidst the pandemic.
RRCY Center Head Leah Mylen L. Lucero expressed her warm appreciation to the relentless efforts extended by the staff and residents which led to the successful turnout of the activities. She also expressed her appreciation for the fun and excitement brought by the Sports Fest and reiterated that sports do not merely promote a healthy body but also a positive relationship among staff and residents. #by: Roulyn B. Bangud, Psychologist II of RRCY