DSWD Field Office 1, through its Crisis Intervention Section and satellite offices, has released a total of PhP110,501,458.00 worth of financial assistance from January to September 2020 to some 41,291 families and individuals who have experienced crisis throughout Region 1.
"Dakkel nga tulong kanyami datuy naawat mi (financial assistance) ta addan paggatang iti agas mi ken anak ko lalo ta hannak met makalako ti bunga ti salumagi ken makaruwar kuma kas makaala iti plastic bottles gapu ti COVID-19. Yamanek met kad datuy makan nga inted yu (family food packs) para iti inaldaw nga pagbiyagmi (The financial assistance we received is a big help because we can now purchase medicines for me and my son especially now that I cannot sell tamarind and cannot trade plastic bottles because of COVID-19. I am also grateful for the family food packs that we can use for our daily living)," said Corazon R. Untalasco, 87 years old from Barangay Bagbag, Bauang, La Union.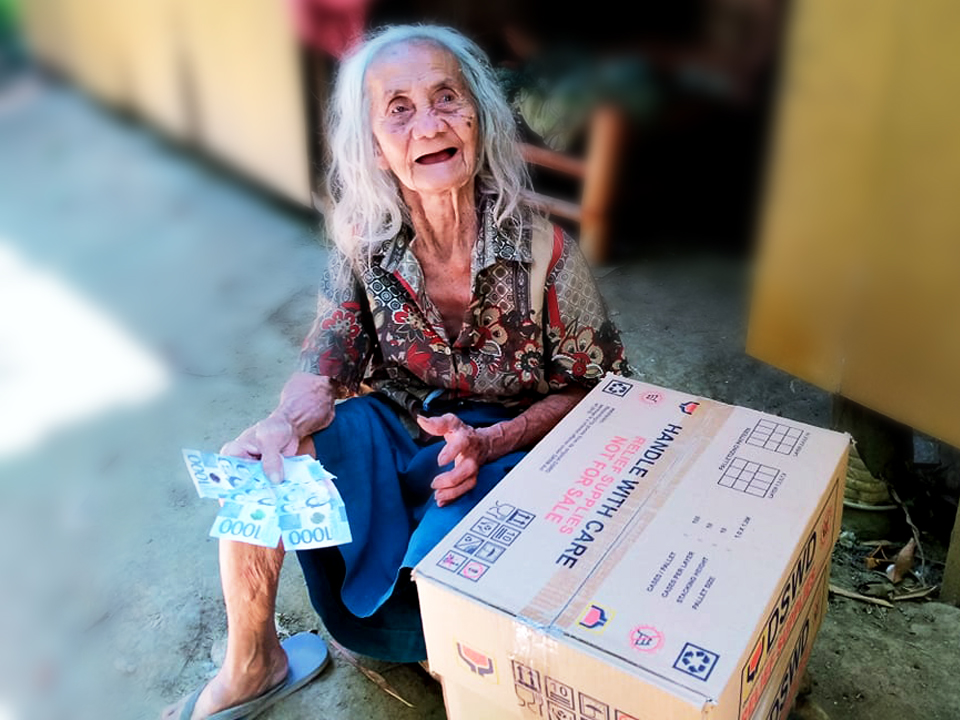 Lola Corazon is a widow who has 10 children. Of the 10, only two are living with her: one is a 56-year-old bedridden son, and the other is a 27-year-old son who has a mental condition. Her eight other children have their own families and just visit from time to time. The Local Government of Bauang, Barangay Bagbag Council, and other private organizations constantly visit Lola Corazon to provide them food and other assistance necessary for their sustenance. Despite her age and status in life, sadness will not be seen in Lola Corazon's eyes as she happily welcomed the DSWD staff who visited her.
Under RA 7160 or the Local Government Code, the Provincial/City/Municipal Social Welfare and Development Office (P/C/MSWDO) is the first responder to provide assistance to individuals in crisis situation (AICS). If the clients' needs cannot be fully met by the P/C/MSWDO, they may be referred to DSWD for augmentation.
Through AICS, qualified individuals or families may avail of services such as transportation, medical, burial, educational, and food assistance. The amount of assistance given to the beneficiaries depends on the assessment of the social worker. Aside from the financial aid, DSWD social workers also provide psychosocial support and intervention and facilitate referral of other services to meet the client's necessities.
AICS is part of the DSWD's protective services for the poor, marginalized, and vulnerable/disadvantaged individuals. It has been implemented by the Department for decades, as part of its technical assistance and resource augmentation support to local government units and other partners. #By: Nicole Kasandra A. Lipawen, Social Marketing Unit