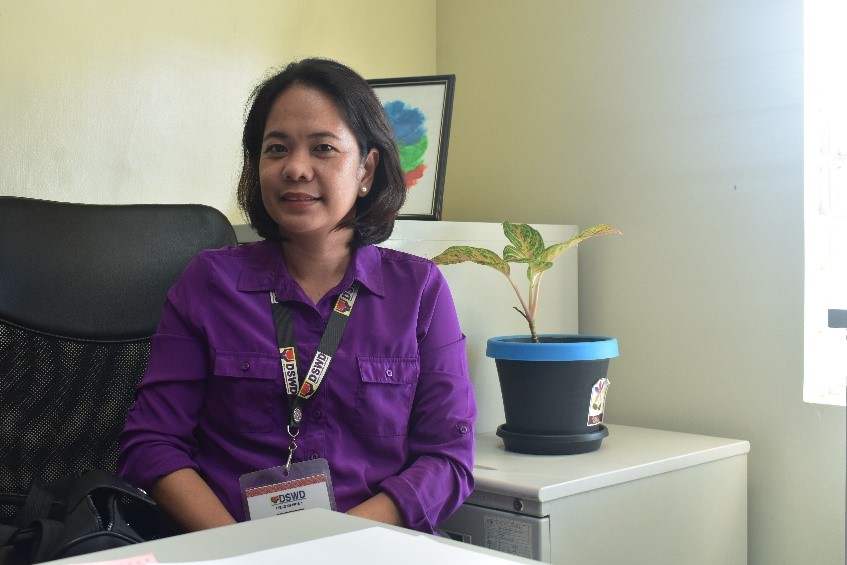 Leah Mylen L. Lucero is a strong-willed woman, a judicious, thorough, and tactful leader, a loving wife, and a mother of two beautiful daughters .
She is a registered social worker by profession who completed her college education at Saint Louis University, Baguio City. She has been designated as the Center Head of the Regional Rehabilitation Center for Youth (RRCY) since 20 August 2018. With her perseverance and dedication to develop herself, she already finished her comprehensive examination for her Master of Arts in Social Work at the University of Northern Philippines (UNP) in Tamag, Vigan City, Ilocos Sur .
In barely four months after her designation as the Center Head of RRCY, she was able to spearhead a Partnership Forum attended by different Civil Society Organizations (CSOs) on 3 December 2018. Through this Partnership Forum, the Center was able to generate cash and in-kind donations amounting to PhP57,218.00 for the 4th quarter of 2018 and PhP185,174.90 for the 1st semester of 2019. The forum encouraged CSOs to share their time and resources as well as to complement the Center's delivery of services to the residents.
Aside from these innovations, she also advocates transparency and accountability in all the transactions of the Center. She presents updates on the budget utilization during staff meetings, Monday Programs, and Parent's Quarterly Meeting to inform stakeholders of where the budget is being utilized. She also encourages all the staff with financial accountabilities to use duly issued forms and templates in registering all matters of financial transactions.
Leah Mylen is a woman of simplicity and humble living. She never wears flashy jewelry or fancy clothes. She adheres to duly issued official attire or uniform. She is modest not only in dressing but in her lifestyle as well. She regularly commutes to attend her work in the Center. She cooks her own packed lunch and prepares her own food.
As firm as a rock, she implements policies and regulations with convictions. She may be a strict and straightforward person, but she is also a good listener. She is open to constructive criticisms and accepts the opinions of other staff. The employees can also freely express their thoughts or sentiments, and she does not dispute nor divert questions or inquiries thrown at her. She even encourages members of the Rehabilitation Team that no decision shall be made or enforced unless unanimously agreed upon.
She also worked for the retention of 17 contract of service and job order workers who were about to be pre-terminated in July 2019. She convened the members of the Rehabilitation Team of the Center to review and reallocate funds from the RRCY's Work and Financial Plan without sacrificing the needs of the clients.
Indeed, Leah Mylen sets the standards as a leader – a leader who leads employees to be just and righteous, and leaves footsteps to track and follow. by: Vincent Paul V. Ruiz, SWO II/Documentation Focal, RRCY 1