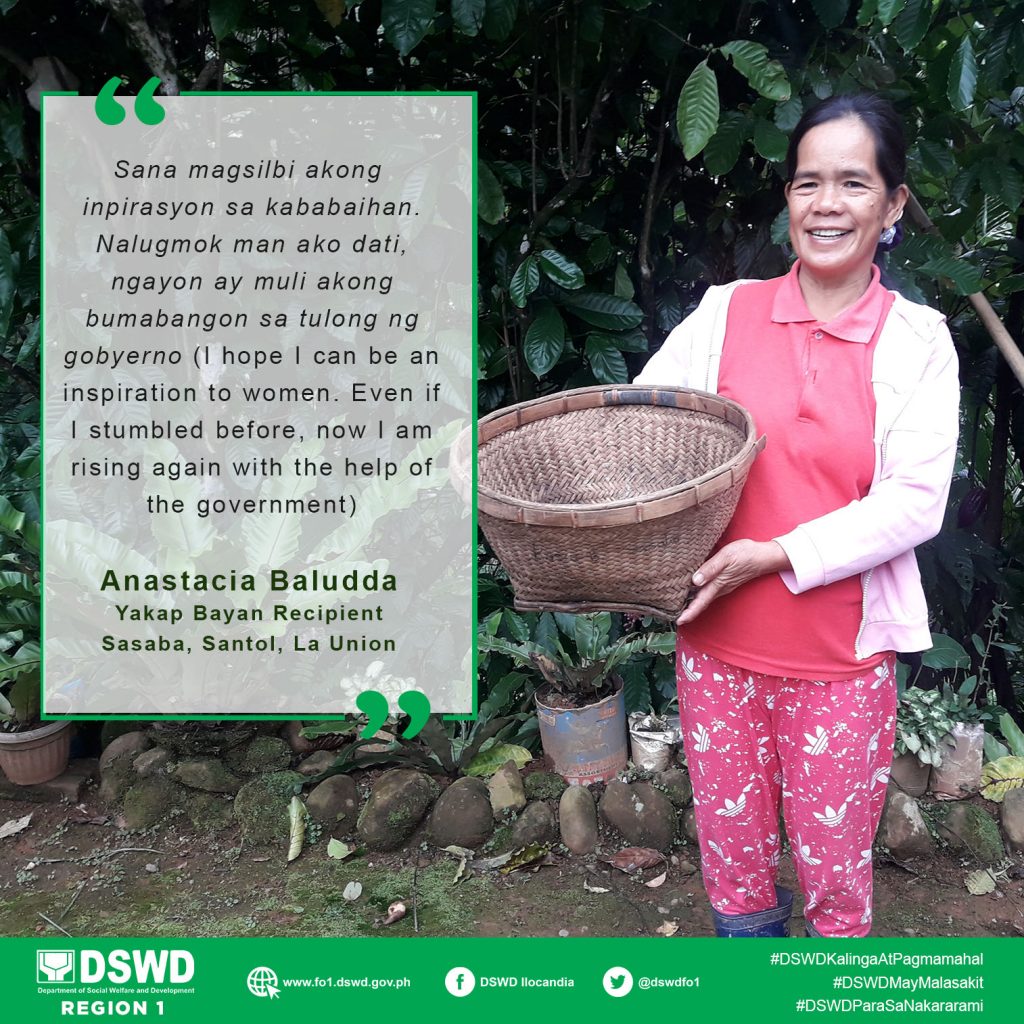 The journey of fighting drugs has no singular story. It comes with various faces with different emotions and reasons.
It was a gloomy Tuesday when we were about to traverse the 18-kilometer, mostly rough, and muddy road of Sasaba, La Union to meet people who are about to complete the program of the government relative to its war on drugs. Riding on habal-habal, we were not stopped by the drizzling weather to arrive at the Lutheran Church where the recovering drug personalities (RDPs) or Katipuneros happily waited and welcomed us. A woman in pink shirt immediately served native pork stew and fresh tomatoes with onions as a side dish for lunch. As we took a quick lunch, the RDPs were silently listening to our huddle. When we all have already taken our meals, we immediately proceeded to conduct a discussion and beside me was the woman in pink shirt carrying her granddaughter. She is Anastacia Baludda, a 49-year old mother with seven children. At first, Anastacia intently listened to the narrations of her co-RDPs on how they became members of the Samahang Pangkabuhayan ng Sasaba at Sapdaan (SPSS), a group affiliated to the Pagsadagan nga Agturong Raniag ken Ekonomiya Sustainable Livelihood Program Association (PARE SLPA) of DSWD Field Office 1. Same as other groups of PARE SLPA, SPSS received PhP54,000.00 livelihood assistance to start anew after winning their own drug battles. When Anastacia was asked what enterprise she entered into, she proudly shared that she is now a kapeng barako (black coffee) maker who retails her goods in the locality.
When I had the chance to personally converse with Anastacia, she invited me to her humble home just a few steps behind the Lutheran Church. We started talking about her family. "Ang aking asawa ay nasa Muntinlupa (New Bilibid Prison). Naikulong siya noong 2012 dahil sa paghahatid ng marijuana (My husband is in the New Bilibid Prison in Muntinlupa. He was convicted in 2012 because of marijuana transport)," a teary-eyed Anastacia started. She continued narrating, "Isang gabi, nagpaalam ang aking asawa na matutulog siya sa bukid kung saan kami nagtatrabaho. Kinaumagahan, pumunta ako sa sari-sari store ng aking nakababatang kapatid para bumili ng asukal. May balitang may mga nahuli ng pulis na nagdeliver ng marijuana sa San Gabriel, La Union. Kinabahan na ako. Pero may nakarinig sa radyo na ang aking asawa ay isa sa mga nakulong. Napahagulgol na lang ako (One night, my husband asked permission to sleep in the farm where we work. The following morning, I went to the store of my younger sibling to buy sugar. There was news that there were people who were captured by the police officers for transporting marijuana to San Gabriel, La Union. I was nervous then. However, someone heard on the radio that my husband was one of those who were convicted. I just cried heavily)."
Shock and devastation were the initial reactions of losing her husband in their home. "Hindi ko alam kung paano ko bubuhayin ang pito kong anak. Pinuntahan ko kaagad ang aking asawa sa kulungan kasama ang aking mga anak (I do not know how I will raise my seven children. I immediately visited my husband in the prison together with my children)," Anastacia continued while wiping her tears. Because her husband could not do anything but regret, he told Anastacia to be stronger and not do as he did – becoming a drug courier. Anastacia and her children left the prison crying and with heavy hearts. Just like the ordinary days, Anastacia has to face reality and continue working as a paid farmer to nurture her children and send them to school. However, burdened with multiple responsibilities, her meager income barely makes ends meet. One day, a friend encouraged her to transport marijuana to nearby municipalities to gain bigger income. At first, she hesitated but with no options left, she became a marijuana courier earning PhP200.00 per kilo of marijuana that will be delivered to the heart of mountains or any hidden place where they secretly trade. Anastacia was then able to provide some household essentials because of her new work; however, it lasted only for a year because of fear, guilt, and agitation. She stopped trading marijuana. She considered becoming a marijuana courier her biggest mistake in life. "Hindi na ako nakatutulog ng maaayos. Palagi akong kinakabahan (I can barely sleep. I was always nervous)," revealed Anastacia relative to her marijuana, or some called it as weed, trading.
When President Duterte's war on drugs was carried out, local government units (LGUs) including Santol, La Union took heed of the call to eliminate all forms of illegal drug activities in the Philippines. To support the Administration's plight on illegal drugs battle, DSWD established a program tagged as "Yakap Bayan" aiming to turn RDPs to community leaders and volunteers and active citizens in the society. In Santol, the RDPs or Katipuneros underwent a rehabilitation from April 2017 to November 2017 at the Itigil at Talikuran Na ang Droga, Ngayon Na! (ITAN) Reflection Camp conceptualized by the LGU in the same year. ITAN was patterned on DSWD's Yakap Bayan Framework in providing aftercare and reintegration services to former drug dependents.
When LGU Santol called the attention of all drug personalities in town, Anastacia and the other 26 drug personalities in Sasaba (the most number of RDPs in the municipality) went to the municipal hall to signify participation in the rehabilitation process. Anastacia was very ashamed and anxious after knowing that she was on the list. This is not only because of the social stigma and stereotype labeling them as offenders of societal laws and cultural norms that destroy the people's lives including the future generation, but also of her broken promise to her husband.
Despite the revelation, blaming inside the home has no room. Her husband was also informed about what happened to his wife, but there was no fault-finding after all. The journey towards rehabilitation has started. During their 6-month activities in ITAN Reflection Camp, she was able to actualize all her wrongdoings and unacceptable behaviors. She was able to forgive and give herself new opportunities to make up for her past mistakes. As activities progress in the Camp, her spiritual character progressed too. She was able to find divine intervention and understand that one must be freed from social expectations to find peace and contentment. "Noong una, nahirapan ako pero sinuportahan ako ng aking mga anak. May mga panahong nanghihina at nagugutom akong pumupunta sa Kampo pero mas malakas ang aking pagnanasa na matapos ko lahat ng aktibidades. Gusto ko talagang bumalik sa dating ako (At first, it was difficult, but my children supported me. There were times that I felt weak and hungry going to the Camp, but my desire to finish all the activities was stronger. I wanted to regain my old self)," narrated Anastacia while smiling. Anastacia and the other RDPs were not only able to appreciate the spiritual processes that improved their lives but they were also trained to become productive microentrepreneurs.
After the rehabilitation scheme of the LGU, the RDPs received seed capital fund as part of the reintegration program to jumpstart ventures into various enterprises aligned with their skills and interests. Anastacia received PhP7,000.00 capital assistance which she used in her kapeng barako making and retailing. She buys raw materials in the neighborhood and packs her finished products into ¼ kilo which she sells to LGU Santol staff and locals amounting to PhP80.00 per pack. Anastacia, while giggling, shared that she gains at most PhP40.00 per pack in selling the organic coffee, a fortune for a homemaker and a budding entrepreneur. Seasonal in nature, Anastacia's coffee business stability is not guaranteed, therefore, she wanted to have a steady source of income. Since MSWDO Eunice Nabehet provided a freezer to SPSS, Anastacia had a bright idea. She rented the freezer and pays a monthly fee of PhP100.00 to SPSS. Some of the income from her coffee retailing was used to purchase frozen foods, fresh bangus and tilapia, pork, and chicken which she sells to her neighbors. Her buy and sell business is a big help to the barangay because when some do not have to cook for viands, they can buy at Anastacia's home. This is a huge relief to the people because they can save at least PhP160.00 jeepney fare or PhP600.00 habal-habal fee going to and from the Poblacion. Anastacia's thriving business now augments to their household requirements.
To sustain the gains of the reintegration project, Santol Mayor Magno A. Wailan hired kamineros or individuals who do road and path cleaning and clearing. Some of the RDPs including Anastacia were hired as kamineros and were paid PhP170.00 per day. After showing satisfactory work performance, Anastacia is now working as a regular kaminero in the LGU receiving PhP250.00 wage per day. "Malaking tulong ang trabahong binigay ng munisipyo sa akin. Hinding-hindi na ako babalik sa aking dating gawain (The work that the local government provided to me is a big help. I will never ever go back to my previous undertakings)," happily shared by Anastacia. She has realized that whatever circumstances we have experienced, as long as we have the desire to change, it would require us to work towards something better for ourselves.
While we are going back to Lutheran Church where our companions have been waiting, Anastacia revealed her aspiration to eliminate marijuana prevalence. She said that the government must improve the road situations in their barangay to increase mobility and ease the transport of goods to Poblacion. The reliability of good road network which limits their chances to have greater access to other opportunities has been a major issue in improving their local economy. If there is one thing that Anastacia has learned from the government, it is to never be afraid to surrender since peace and development is a shared responsibility.
Now, Anastacia is a reformed woman. She aims that every woman, regardless of dark past or deprived situation, stand up and face reality because once a woman stands up for herself, she stands up for all the women of the humanity. # by: Darwin T. Chan, Social Marketing Unit