Ten residents of Regional Rehabilitation Center for Youth (RRCY) have visited Balay Taripato in Magsingal, Ilocos Sur – a home for the elderly managed by the Provincial Government of Ilocos Sur and Tahanang Walang Hagdanan Association, Inc. in Vigan City – an organization of person with disabilities, on 4 April 2019. The learning visit is part of their rewards for showcasing exemplary characteristics while undergoing rehabilitation in the Center aside from the cash incentive of PhP350.00 per resident every month.
The Reward System of the RRCY was implemented since October 2018. The residents are given corresponding score in doing their daily chores and in attending spiritual activities. Their scores are consolidated monthly and the Top 10 Reward Earners are given an incentive as approved in the Work and Financial Plan. Moreover, they are also recognized during the Monday Program and their names and testimonies are posted in Bulletin Board.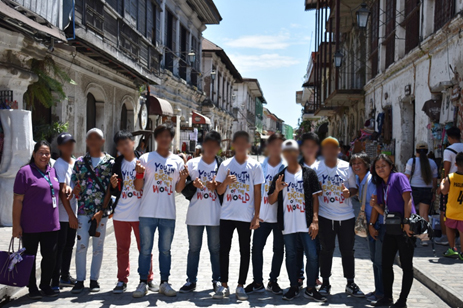 There are five areas for assessment which include attendance and participation to character building program, Residents' Orientation Program (REPO), daily chores, spiritual activities, and their participation to special assignments/tasks. Moreover, the Top 10 residents are also proposed to visit areas with existing public and private agencies providing residential based services in the region, as an additional incentive. They will be escorted by at least four staff, one representative from the four units of the Center, namely; the Social Service, Support Service, Homelife, and Administrative Units.
The activity provides an opportunity for the residents to appreciate the services provided to them, gain better perspective in life, and a venue for exchange of good practices of the Center and the agencies to be visited which can be applied by both agencies. These efforts will sustain the positive behavior of the residents, encourage others to display the same, and enhance service delivery.
"Ganun po pala ang sitwasyon ng mga matatandang wala ng nag-aalaga sa kanila. Naramdaman ko ang sitwasyon nila. Paano kung tayo na rin ang matatanda? Ang mga nasaksihan ko ay nagbigay sa akin ng aral, na pahalagahan natin ang ating mga nanay at tatay dahil kung wala sila ay wala rin tayo ngayon" (Such is the situation of the elderly who do not have someone to care for them. I really felt their situation. What if we were older too? What I have witnessed gave me a lesson, that we must value our mothers and fathers because without them we are also not here in this world) said by Ali, RRCY resident.
Based on the insights of the residents, they feel sad with the conditions of the elderly who were not visited by their relatives. The reward earners realized to be more loving and kind to their parents and grandparents, and to do better in the Center so that they can take care of their elders. The residents were also saddened by the circumstance of the clients at Tahanang Walang Hagdanan but they were inspired by their perseverance to pursue education.
The reward system aims to reinforce the residents' positive behaviors and also help them develop values that they can apply in their daily undertaking. By: Leah Mylen L. Lucero, SWO IV/Center Head, Regional Rehabilitation Center for Youth (RRCY) 1