"I cannot see anything but light." These are the words of Marcela Agustin, a 104- year-old grandmother from Ilocos Norte. Inang Marcela, due to her old age, has been lying on her bamboo bed for as long as she can remember. Her age stopped allowing her to walk and go around the neighborhood, her eyesight was also affected, she has been feeling weak but that did not stop her from showing her jolly side when staff from the Municipal Social Welfare and Development Office visited her to tell her about the good news – Lola Marcela will receive PhP100,000.00 for reaching 100 years.
A mother of four, Lola Marcela lost her husband when she was only 60 years old. She and her husband worked as farmers to be able to provide for the family. Lola Marcela shared her secret of being healthy and being able to reach 104 years. She was very fond of cooking and serving vegetables; she also used natural and organic ingredients, also adding her daily routine of farming and washing laundry which served as her daily exercise.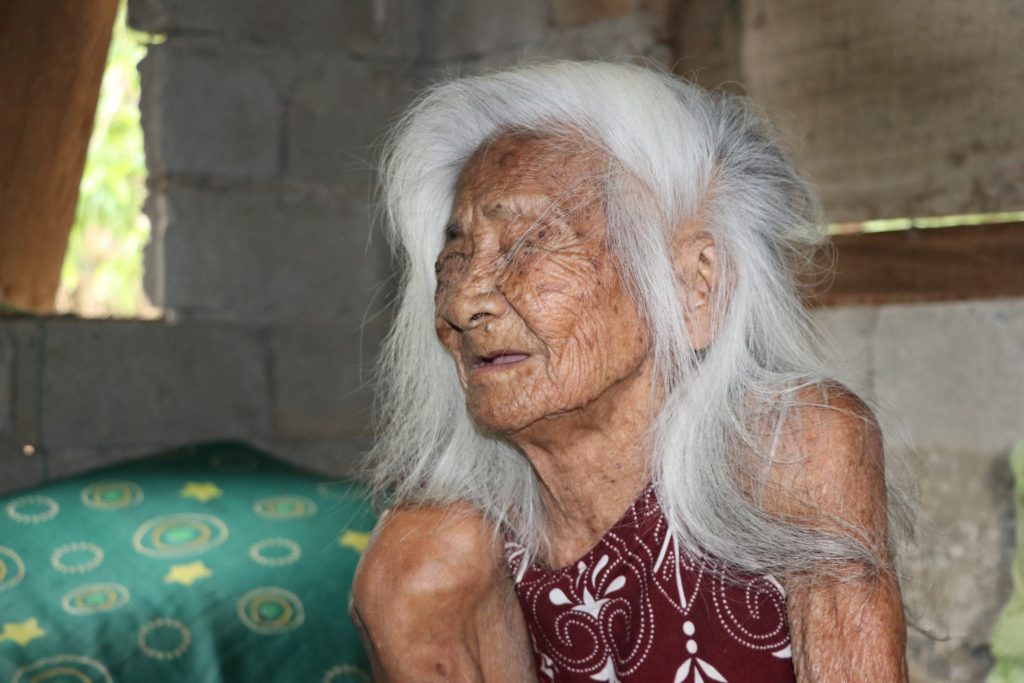 Lola Marcela could not remember how many grandchildren she has, but she longs to be visited by them. She wants her family complete before she retires from this life. Her advice to the young people is to stay away from vices. Lola Marcela knows how these substances could destroy their health. She also emphasized the importance of going to school and studying hard, one thing she missed while growing up.
When asked how she will spend the cash gift received from the government, she readily responded, with tears forming around her eyes, that she plans to spend some of it her for funeral. Lola Marcela was very vocal about her life being taken from her very soon. She knows it is coming, and she has accepted it. "Igatang ko a ti noang, ta sida dan ton nu matayak (We'll use it to buy a carabao to butcher and cook during my wake)," she said.
Lola Marcela was grateful that before the dusk of her life, she could leave some amount for her children and grandchildren. She can be at peace knowing that she did what she could to spend her life with the people she loves the most. "Ket matuukan nak metten ti rigat kon, kayat ko met makitan ni Apo, nu alaen nak ket agyamank a (My age is already taking its toll on me, I would like to see the Lord soon, if He takes me anytime, I would be thankful)." (By: Helen Veryan C. Valdez, Former Social Marketing Officer,Kalahi-CIDSS)