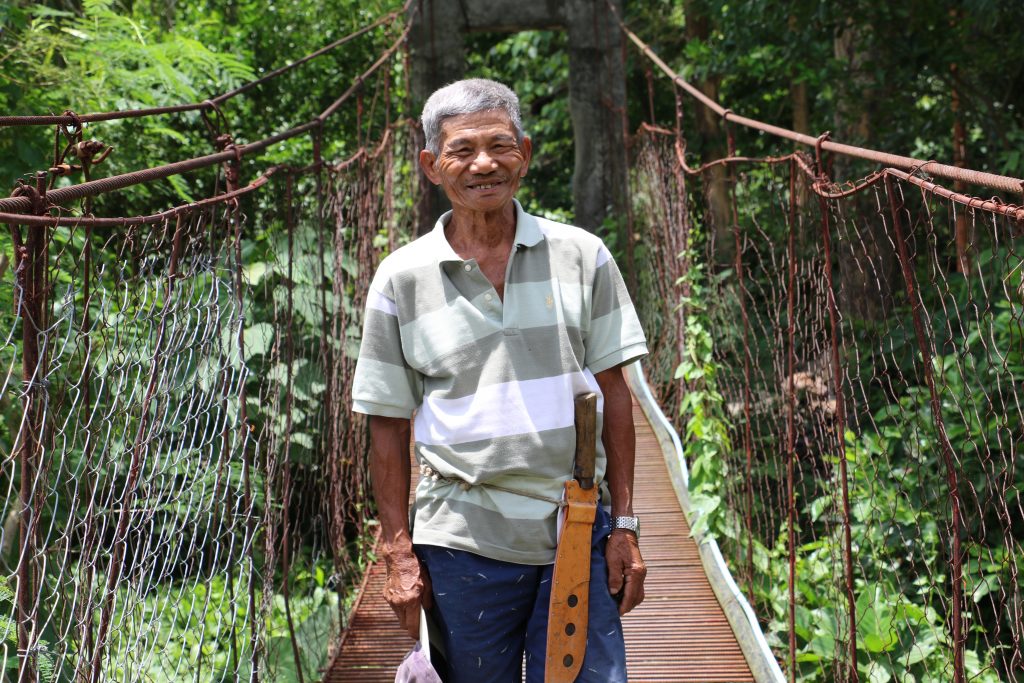 Since its inception in 2016, the Province of Ilocos Norte has now produced more than 11,000 Barangay Ranger Officers (BROs) who ensure the sustainability of the Provincial Greening Program dubbed as the "Ilocos Norte Green Wall" which aims to restore forest cover and protect the Ilocos Norte Watershed in the municipalities of Badoc, Pinili, Nueva Era, Solsona, Carasi, Vintar, Pasuquin, Bangui, Pagudpud, and Adams. Considered as the sentinels of the Green Wall, these BROs water and weed seedlings, and patrol and guard the forest areas against illegal loggers, forest fire, and slash and burn operations (kaingin) to increase seedling survival rates.
Progressive Results
Kaingin and charcoal production have been few of the major contributors in the global warming and climate change. Through the Ilocos Norte Environment and Natural Resources Office (INENRO) and Provincial Social Welfare and Development Office (PSWDO), strategic initiatives and continuous environmental campaigns such as the enactment of the Green Wall, a part of the Ilocos Norte's climate change adaptation and mitigation (CCAM) projects, is implemented to arrest the observable effects of global climate change.  As such, the BROs heighten security in the forest and mountains and eliminate the incidence of kaingin and forest fires to promote environmental restoration. Many of the former perpetrators of kaingin are now BROs who receive a monthly allowance of PhP3,000.00 that serve as their decent source of income. Further, these BROs are recipients of the 10-day Cash-for-Work (CFW) Program of the Department of Social Welfare and Development Field Office 1 (DSWD FO 1) wherein they receive PhP210.00 (75% of the prevailing daily wage rate in Region 1) per day as payment in the improvement of green wall and accomplishing environmental protection undertakings. The project has not only essentially rehabilitated previous environmental perpetrators to become productive individuals, but it also created thriving livelihoods and/or employment to 3,000 BROs on a quarterly rotational basis. Moreso, the Green Wall gradually eradicated kaingin operations, augmented income- generating activities, and provided stable food supply to the people of Ilocos Norte by planting various fruits and vegetables and producing their own seedlings and fertilizers.
Liberating the People
Now aware of their roles and responsibilities in the community, BROs uphold the value of volunteerism during disaster operations and blood donation, when necessary. They also underwent numerous seminars and information campaigns about climate change and environment, thus, developing a stronger sense of commitment to protecting the environment. "Sikami ti mangkitkita ti pagsayaatan ti lugar mi. Ti maysa pay nga pagsayaatan na ti trabaho mi ket makita mi diay pinagpintas ti mula mi. Tarakenen mi nga naimbag dagidiay inmula mi tapnu haan nga masayang diay pondo nga inted ti gobyerno. Dagitoy inmula mi ket makatulong to para diay maud-udi kadakami (We are the stewards of our community. One of the positive effects of our work is we are able to observe how our plants grow beautifully. We will thoroughly nurture our plants so that the government fund will not put be into waste and will help the future of the next generation," happily shared Virgilio Batulan, an 80-year-old BRO at Brgy. Sagugui, Pagudpud Ilocos Norte. Virgilio also thanked the Provincial Government of Ilocos Norte for giving them the chance to have a source of income and at the same time be environmental warriors in their lands and mountains. Moreso, he disclosed that the CFW of DSWD is a big help to augment their day-to-day requirements and even underscored that the CFW should be a continuous project so that it will help other Indigenous Peoples in their barangay .
Continuous Development
As the Province's forests have expanded and safety measures are prioritized to protect the area, both locals and tourists go to the mountains for hiking and glamorous camping (glamping) as they can now enjoy a flourishing forest environment and are assured of their security knowing that the BROs are around to guide the people and patrol the area to ensure full safety of the mountaineers. In addition, recognizing the impact and success of the BROs in the implementation of Green Wall, the Provincial Government of Ilocos Norte hired additional BROs to plant, care for, and maintain a forest of mangroves along the shorelines of Laoag City, Badoc, and Currimao dubbed as the "Blue Wall of Ilocos Norte." # By: Darwin T. Chan, Social Marketing Unit with reports from INERO.