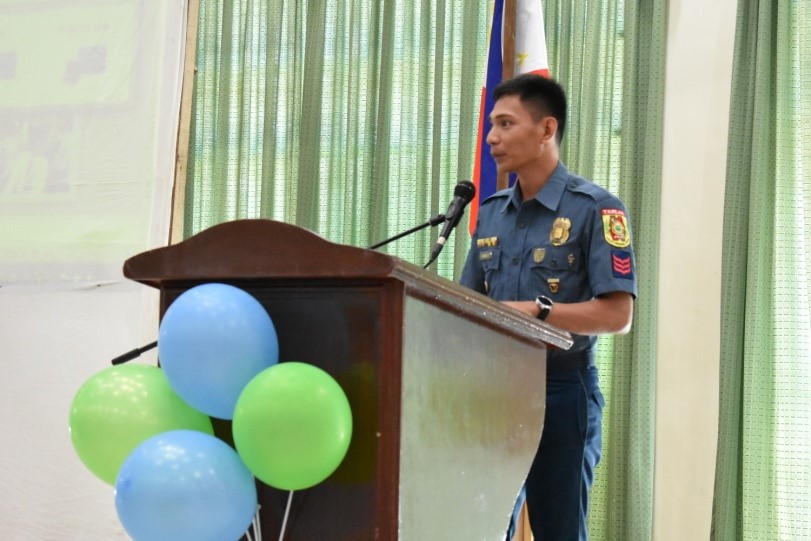 Jethro Fabros, 30 years old, a former resident of the Regional Rehabilitation Center for Youth (RRCY) is living proof that despite life challenges anyone can become a better person from yesterday with hope, determination to continue, and faith to God.
"DSWD is a blessing in disguise para sa akin, pinadala ako rito [sa RRCY] ng Panginoon to become a better person dahil may mas maganda pala siyang plano sa buhay ko" (DSWD is a blessing in disguise for me, I was sent by God in RRCY to become a better person because he has a plan for my life)Jethro shared during the 1st Semester Social Welfare and Development (SWD) Forum held at Leisure Coast Resort, Dagupan City on 23 May 2019.
His RRCY story began when he was accused of violating Republic Act 8353 otherwise known as the Anti-Rape Law of 1997. On 2 July 2003, he was arrested by police officers in the school where he pursued his secondary education .
"Katorse anyos palang po ako noon. Hindi ko alam ang gagawin ko, para akong nabagsakan ng langit at lupa dahil sa nangyari. At kinabukasan ay dinala agad ako sa RRCY. Noong una, maraming katanungan ang nasa isip ko, bakit ako nandito sa lugar, wala akong kakilala at malayo sa pamilya, napapaiyak nalang ako" (I was 14 years old at that time. I didn't know what to do, I felt like the heaven and earth fell over me. And the next day, I was immediately admitted in RRCY. At first, questions keep on flashing on my mind, why am I here, I do not even know anyone, and I am far from my family. I just cried) he added in his testimonial .
But through it all, Jethro remained optimistic, believing what happened was the plan of God. His longing to his family has made him stronger. He managed to adjust and coped up with the structured activities and slowly became more equipped with skills and knowledge while in the Center.
"Pero naramdaman ko na masaya pala dito [RRCY], may mga recreational activities and livelihood programs. Actually, dito ako natutong gumawa ng cross stitch" (But I slowly felt that it's happy here, there are recreational activities and livelihood programs. Actually, I was able to learn how to cross stitch in RRCY) he recalled.
With his passion to finish his education, he took the Accreditation and Equivalency Test – Alternative Learning System (ALS) in May 2005 and out of 100 takers only three of them passed. After a month, the case filed against him was dismissed. He was discharged from the Center and he wanted to continue with his studies, however, admission test of public schools were already closed.
But God has never stopped showering him with blessings. His lawyer told him to enroll Bachelor of Science in Criminology in a private school and he will shoulder all the expenses. From then, his life journey has continued outside the Center. He graduated in college in 2009 and he was able to pass the Criminologist Board Examination in 2010. He entered the Philippine National Police in 2011 and has been in the service for 8 years already. He received numerous awards and commendations for his good public service and he is now a Police Staff Sergeant (Police Officer 3) assigned in Ramos Police Station, Tarlac Police Provincial Office. Among all of these, he considers his loving wife and his soon to be born baby as his greatest blessings.
Despite his admission in RRCY, Jethro, a young police officer has accepted ordeals as a blessing in disguise in becoming a better person he is today. Indeed, his RRCY experience has molded him to withstand all the challenges in life. # By: Vincent Paul V. Ruiz, SWO II/Documentation Focal, Regional Rehabilitation Center for Youth (RRCY) 1