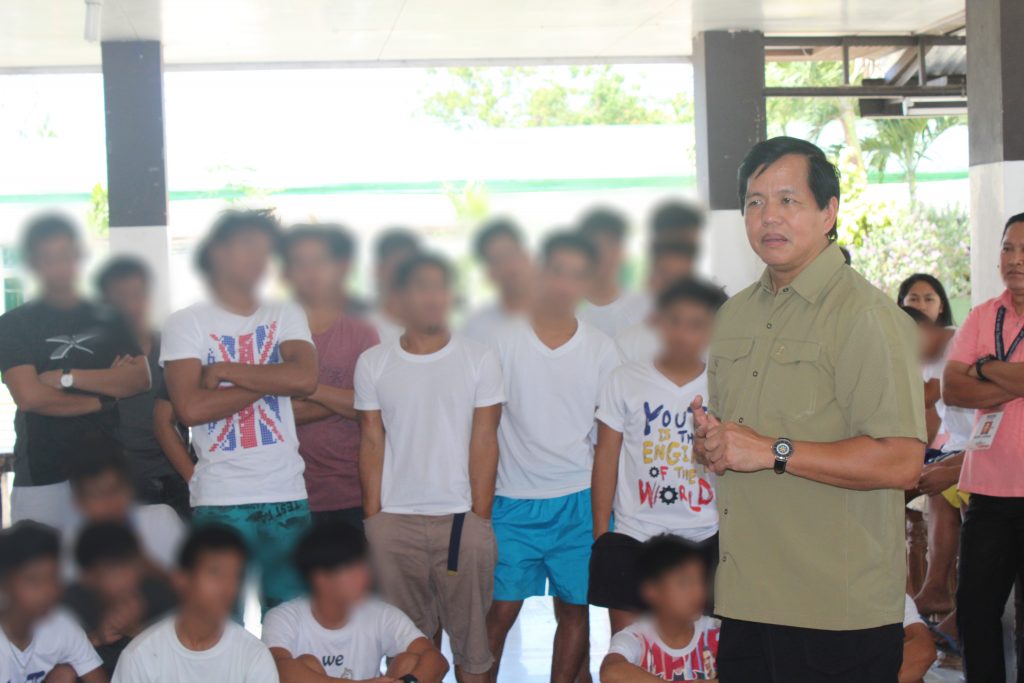 DSWD Secretary Rolando Joselito D. Bautista visited the Regional Rehabilitation Center for Youth (RRCY) at Brgy. Urayong, Bauang, La Union to look into the welfare of more than 100 children in conflict with the law (CICL) and children at risk (CAR). The Honorable Secretary conducted an ocular inspection on the building and facilities of the residential-based facility to ensure that provision of transformational services and positive rebuilding practices are given to residents for their immediate rehabilitation.
"As what Jose Rizal proclaimed, the youth is the hope of the Fatherland," shared Secretary Bautista to the residents. He stated that the true strength of the nation is the people including the youth who have vast ideas and capabilities that will turn things into reality, thereby contributing to the overall development of the country. He further encouraged the residents to abide by the rules of the Centers and participate in all activities for them to be immediately reintegrated to their families and communities. The residents must be true leaders to their co-residents and to those people who are unheard and victims of social injustices brought about by different circumstances. The Honorable Secretary challenged also the residents to become uniformed personnel so as to help curb all forms of inequalities and wrongdoings in the society.
Prior to the visit to the Center, Secretary Bautista convened the DSWD Field Office 1 Management Committee and staff. There are more than 1,100 strong men and women of the Field Office who work tirelessly and silently to reach-out and provide the needs of the people particularly in disadvantaged areas. The Honorable Secretary underscored that the Department must prioritize the poor to have access to social services and economic spaces in which they can secure thriving livelihood options to acquire steady sources of income. To further improve the socio-economic situation of the Department's partner-beneficiaries, staff must work hand-in-hand with all levels of government to achieve multiple objectives increasing the level of well-being of targeted clients. The workforce must also adhere to the ethical standards of the public employees and must at all times uphold utmost integrity in order to inspire and influence the partner-beneficiaries to optimize their full potentials. The government and the people, as a two-way-street, must both contributors to better decisions and design systematic policies to achieve social liberation and justice. Finally, the Honorable Secretary instilled to the staff the importance of pro-active philosophy to achieve the mission and vision of DSWD wherein proper planning and preparation prevents poor performance. # By: Darwin T. Chan, Social Marketing Unit.