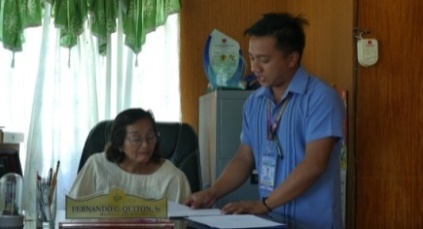 Community volunteers and municipal officials in Sugpon, Ilocos Sur switched roles during the Pamumunong Makamasa: Community Volunteers – LGU Exchange Activity that was spearheaded by the Kapit-Bisig Laban sa Kahirapan Comprehensive and Integrated Delivery of Social Services – National Community-Driven Development Program (Kalahi CIDSS – NCDDP) of the Department of Social Welfare and Development Field Office 1 (DSWD FO 1).
The event is in line with the celebration of the 4th year anniversary of NCDDP, which was first introduced in Leyte in 2014. It also highlights the importance of the community-driven approach and the role of community volunteers in local planning and development.
During the one-day event that was covered by media, Nida T. Sucapen, a housewife, played the role of Sugpon Mayor Fernando C. Quiton, Sr. where she listened to performance reports from several local department heads such as the Municipal Planning and Development Officer, Chief of the Local Police, and the Local Disaster Response and Reduction Management Officer.
Sucapen was also briefed by Mayor Quiton who was at her side during the whole duration of the event on the daily functions of a Local Chief Executive.
Role-playing as Vice Mayor Daniel C. Laño, Jr. was Aurelio Dayag, Sr., a farmer, who presided a mock legislative session with Josie Apolog, Sisa Day-a, Noemi Latong, Perlita Sisante, Helen Cudao, Donna Dayag, Rolly James Aguinaldo, and Jean Lee Abellera who acted as regular Sangguniang Bayan (SB) members.
Marivic Sunggay and Marlito Baguioen played ex-officio SB members as the Federated President of the Liga ng mga Barangay and Federated Sangguniang Kabataan President, respectively, while Ola Joy Binaclang played the role of the Secretary to the Sangguniang Bayan.
During the mock legislative session, the municipal officials and employees sat beside the community volunteers to assist and coach them on how to conduct a legislative deliberation.
Afterward, Mayor Quiton played as foreman while Vice Mayor Laño and all SB members acted as laborers at the ongoing stone masonry sub-project of Kalahi-CIDSS in Poblacion.
A focus group discussion and an open forum were held toward the end of the event where everyone shared learnings and insights of the role-switching.
The exchange activity ended with everyone signing a manifesto of support for the institutionalization of the community-driven development (CDD) approach.
CDD seeks to empower poor communities to identify and implement projects based on the principles of participatory, inclusiveness, transparency, and accountability. (by Ruperto A. Sabalo, Jr., Social Marketing Officer, Kalahi-CIDSS)