Anda, Pangasinan is the only island municipality in the Province of Pangasinan comprising of 18 barangays with 8,855 households. Due to its location, the municipality is vulnerable to climate change impacts such as typhoon and drought that affect the inhabitants particularly the livelihoods of fisher folks in the coastal barangays. In 2018, to fight the emerging effects of the complex shifts of the climate systems, the Local Government of Anda specifically the Municipal Social Welfare and Development Office (MSWDO) made concrete strides by working with DSWD Field Office 1 (FO 1) through the implementation of various climate change adaptation and mitigation activities through the Cash-For-Work (CFW) project amounting PhP5,250,000.00 .
Dismantling Fish Pens
In May 2018, more than 1,000 families in Barangays Siapar, Awag, Carot, Dolaoan, San Jose, Mal-ong, and Poblacion were affected by fish kill along Caquipotan Channel where fish pens and fish cages have proliferated the area. On 31 May 2018, the Local Government declared a temporary suspension of fish stocking within the aquaculture zone of the municipality, thus leaving the fisher folks to lose their regular sources of income. Recognizing the adverse effects of the moratorium, LGU Anda, with people's consultation, conducted a 10-day CFW to provide temporary employment to families whose daily needs mainly depend on their wages as direct workers from fish pens and cages by dismantling illegal fish pens.  "We need to remove the fish pens because the excess fish meals/pellets go to the bottom of the ocean, thereby obstructing free water flow and polluting the water systems leading to fish kill," said Dolaoan Brgy. Captain Baltazar Pajarillo. The Brgy. Captain further disclosed that the DSWD's CFW was a big help in funding their project because the local government has no fund in providing wages to the people who dismantled the fish pens. In addition, materials from the removed pens were distributed to the residents who need bamboos to restructure their huts while some were maximized as firewood. After the dismantling, small fishermen have regained access to their traditional fishing grounds.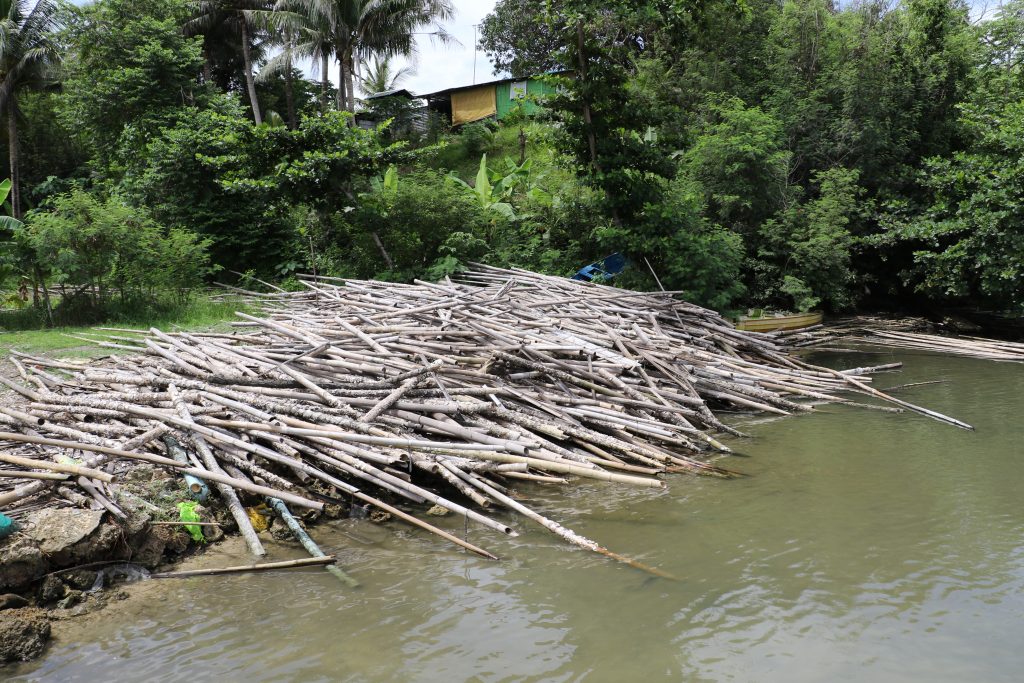 Beautifying Schools
All 21 elementary schools in the municipality are recipients of DSWD's CFW to improve schools' gardens and surroundings. The undertaking did not only provide a safe and attractive learning environment for pupils, but it also allowed the parents to share their creative gardening skills while earning. "Kami ay nakatutulong sa paaralan ng aming anak at naipakikita rin namin sa komunidad na masaya ang pagtutulungan (We are able to help our children's school and show to the community that cooperation is fun)," shared Junelie Carolino, Parent-Teacher Association President at Namagbagan Elementary School. Junelie, a Pantawid Pamilya beneficiary, who sends her two children to the said school encouraged all parents to start instilling the value of environmental protection at home .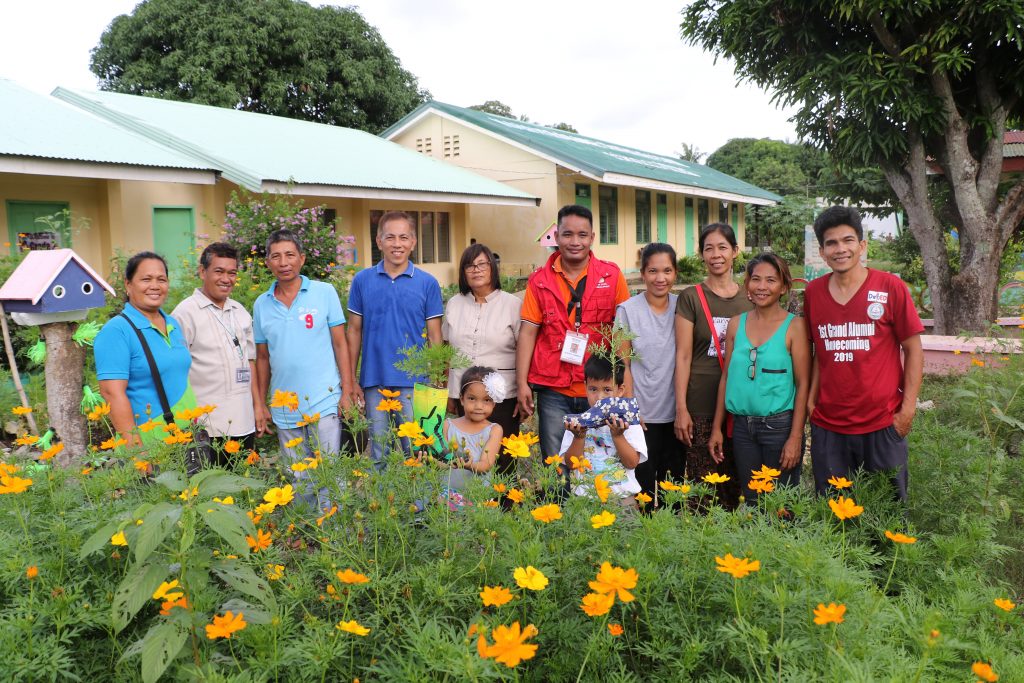 "Maganda ang Cash-For-Work kasi hindi lang nilalabanan ang climate change pero naibabahagi rin ng mga magulang ang kanilang kaalaman sa organic gardening. Ang mga magulang din ay namumulot ng mga basurang pwede pang i-recycle at maganda itong halimbawa sa mga bata at komunidad. Tayo ay magtulungan para mahilom ang ating mundo (Cash-For-Work is good because it does not only fight climate change but it also allows the parents to share their knowledge in organic gardening. Also, the parents collect wastes that can be recycled and this is a good example to the children and community. We need to work together to heal our world)," School Principal Elvira Aqui narrated. Namagbagan Elementary School was the 2017 and 2018 municipal winner in the Gulayan Sa Paaralan (Vegetable Garden in School) with attractive-landscape grounds using cost-effective materials with proper waste management.
Rehabilitating the Coast
Mangroves are vitally important in stabilizing the coastline and serve as valuable nurseries for various types of sea creatures necessary for human consumption. However, with the laxities of communities, these mangroves are gradually depleted. To address such issues that would contribute dramatic consequences for humans and nature, Anda has seen the urgent need to stop the current loss of mangrove and therefore implemented the mangrove planting and rehabilitation through the CFW project to ensure conservation. Today, mangrove forests in the municipality are recovering and even extending to provide wider sources of food security and livelihoods to locals and boost local tourism. Imbo Barangay Captain Francegil Matteo pledged to counterbalance the mangrove decrease and will always safeguard this resilient and biodiverse ecosystem by sustaining cleanliness and supporting all government programs and policies relative to fighting climate change.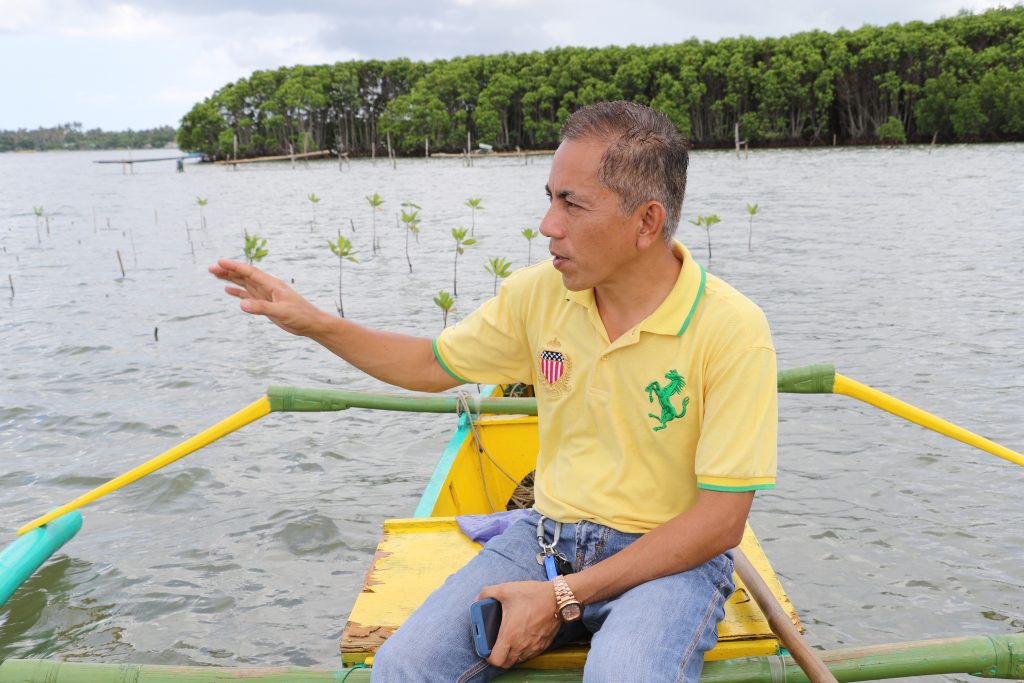 Anda's environmental movement is an eye-opener to accelerate our ways and initiatives to eradicate the impacts of climate change. We need to strengthen our personal and collective efforts to contribute to the existing global initiatives to fight climate change. No one wins once the Earth retaliates. Let us rebuild Mother Earth. Let us harmonize what Anda has done. Let us support environmental agreements and commitments. Let us start within ourselves. Let us fight climate change. # By: Darwin T. Chan, Social Marketing Unit with reports from MSWDO Anda.