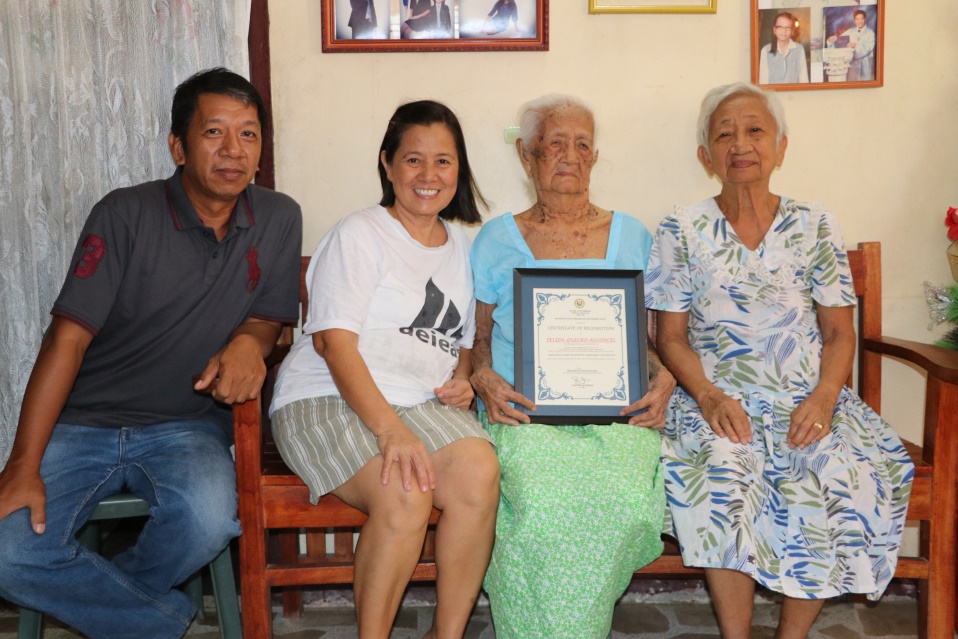 One of the biggest fears for some people is to grow old with uncertainties and without someone to take care of them. But for the oldest person and only centenarian in Caoayan, Ilocos Sur, she comfortably aged to 103 years with so much security, love, and care from her grandchildren whom she helped rear to become what they are now.
Felipa Jeremias Quicio Alconcel, who is a picture of an accomplished elderly, was surrounded by her loved ones, some of them were on vacation from the United States of America (USA), when she sat down for an interview in their house in Brgy. Pantay Tamurong. She is thankful because none of her relatives have neglected her in her old age. She even joked by telling that "God has not remembered her yet." She meant that she is happy to face her Creator anytime.
"Why would I neglect her if from my childhood I already considered her my mother?" exclaimed Armando Cesario Alconcel Adoc, her grandson, who resigned from his promising career in the air transportation industry just to be with her in the last few years of her life.
THE CALLING
Born on 1 May 1916, Lola Ipang, as she is fondly called, has no child of her own, but she considers all her grandchildren she helped raise as her own.
"I also had my suitors during my prime years and they used to send me love letters," laughed Lola Ipang when asked if she never had any admirer. "But how would I entertain them when I needed to look after my grandchildren?"
She remained single because she was pre-occupied with taking good care of her siblings' children and even their grandchildren. Since she was the only sibling who worked at home as a dressmaker, her siblings would entrust her their children so they can do their works outside their home.
Armando Cesario was the eldest of her grandchildren and the first one she raised as her own child while his mother was working as a public school teacher.
"I grew up feeling she was my real mother because I only see my mother in the evening after her work in the school," said Armando Cesario. "I sleep beside her. She feeds and bathes me. She prepares all my things."
When Armando Cesario went to Manila to pursue his education, his Lola Ipang went to live with him in the city.
With a very soft voice, Lola Ipang whispered that it was probably her destiny to remain single so that she could help her siblings raise their children and grandchildren whom she now considers her joy and treasure.
Armando Cesario revealed that her Lola Ipang can still move and work in her own with less assistance despite her conditions. She can barely see and hear now, but she doesn't want a day without doing anything.
If Lola Ipang gets bored lying on her bed, she rises and goes around the house to sit in the sala, go to the dining table and eat her meals, and go to the bathroom and bathe.
Armando Cesario and his wife only need to prepare her foods in the table so that she could eat her meals or fill up the bucket with water so that she could take a bath.
INCENTIVES OF A LONGER LIFE
Except her poor sight and hearing, Lola Ipang is not suffering from any illness like hypertension despite her big appetite for "bagnet", a locally-produced deep-fried crispy pork belly dish. She could not eat without it, but Armando Cesario could not protest because she gets easily upset and throws tantrums if not served with her favorite dish.
"Surprisingly, she prefers to eat the fatty part of the meat. She is the exact opposite of her late sister who also turned centenarian before she died," said Armando Cesario.
In order to maintain Lola Ipang's love for "bagnet", Armando Cesario is using part of her PhP100,000.00 monetary incentives to buy for it while the bigger portion has already been invested into a burial plan for her grandmother.
Lola Ipang also received one time PhP10,000.00 cash incentive from the Municipality of Caoayan when she turned 100 years old and an annual PhP15,000.00 from the Provincial Government of Ilocos Sur as long as she lives.
SHOWER OF LOVE
With a cracked voice and almost tears on her eyes, Lola Ipang could no longer contain herself while she was repeating her words of gratitude for all her grandchildren who are helping her financially especially Armando Cesario.
"Mama Ipang sacrificed her happiness of not marrying in order to raise me for who I am now so it is my turn to take good care of her because no one is left except me," said Armando Cesario. "She showered us with love when we were young, so she must also be showered with love now that she is old."
Armando Cesario was working in Manila when his biological mother, who was then taking care of her Lola Ipang, was petitioned to live abroad. No one was left to look after her since all her grandchildren were already based and working abroad. Armando Cesario was left with no option but to go back to the province in 1996 – a decision he will never regret in his entire life!
For more than 20 years, Lola Ipang has been under the love and care of Armando Cesario. The amount of love she has shown to her grandson is the same amount of love her grandson is showing her now. (by Ruperto A. Sabalo, Jr., Social Marketing Officer, Kalahi-CIDSS)