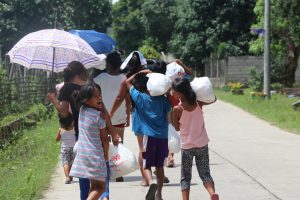 As of 24 September 2018, DSWD Field Office 1 (FO 1) has augmented 48,072 family food packs (FFPs) amounting to PhP17,305,920.00 to the victims of Typhoon Ompong in Region 1. Further, 3,414 hygiene kits, 6,967 family kits, and 6,725 sleeping kits worth PhP27,223,347.25 were distributed to various cities and municipalities.
FFPs are composed of six (6) kilos of rice, four (4) cans of sardines, four (4) cans of corned beef, and six (6) sachets of coffee while hygiene kits are comprised of five (5) pieces assorted toothbrush, 500mL toothpaste, 1,250mL shampoo, 1,250g bath soap, four (4) rolls of tissue, eight (8) sanitary napkins, two (2) combs, one (1) disposable shaving razor, and one (1) nail cutter. Family kits include five (5) bath towels, 15 undergarments, 10 pairs of shirts and shorts, and five (5) pairs of slippers while sleeping kits contain two (2) blankets, one (1) plastic mat, one (1) mosquito net, and one (1) malong.
DSWD FO 1 maintains sufficient stockpiles of these food and non-food items prepositioned at the regional and satellite warehouses throughout the Region. The Department has a temporary regional warehouse located at Brgy. Biday, City of San Fernando, La Union. Seven satellite warehouses are located in the Province of Pangasinan, three in Ilocos Norte, and one in Ilocos Sur to ensure that immediate relief augmentation is provided to local government units (LGUs).
DSWD FO 1 Director Marcelo Nicomedes J. Castillo underscored the importance of satellite warehouses to promptly respond to the needs of individuals affected by a calamity. Director Castillo also highlighted that relief supplies about to expire are optimized through food-for-work activities. (by: Darwin T. Chan, Social Marketing Unit)